Get Lost, Stay Rad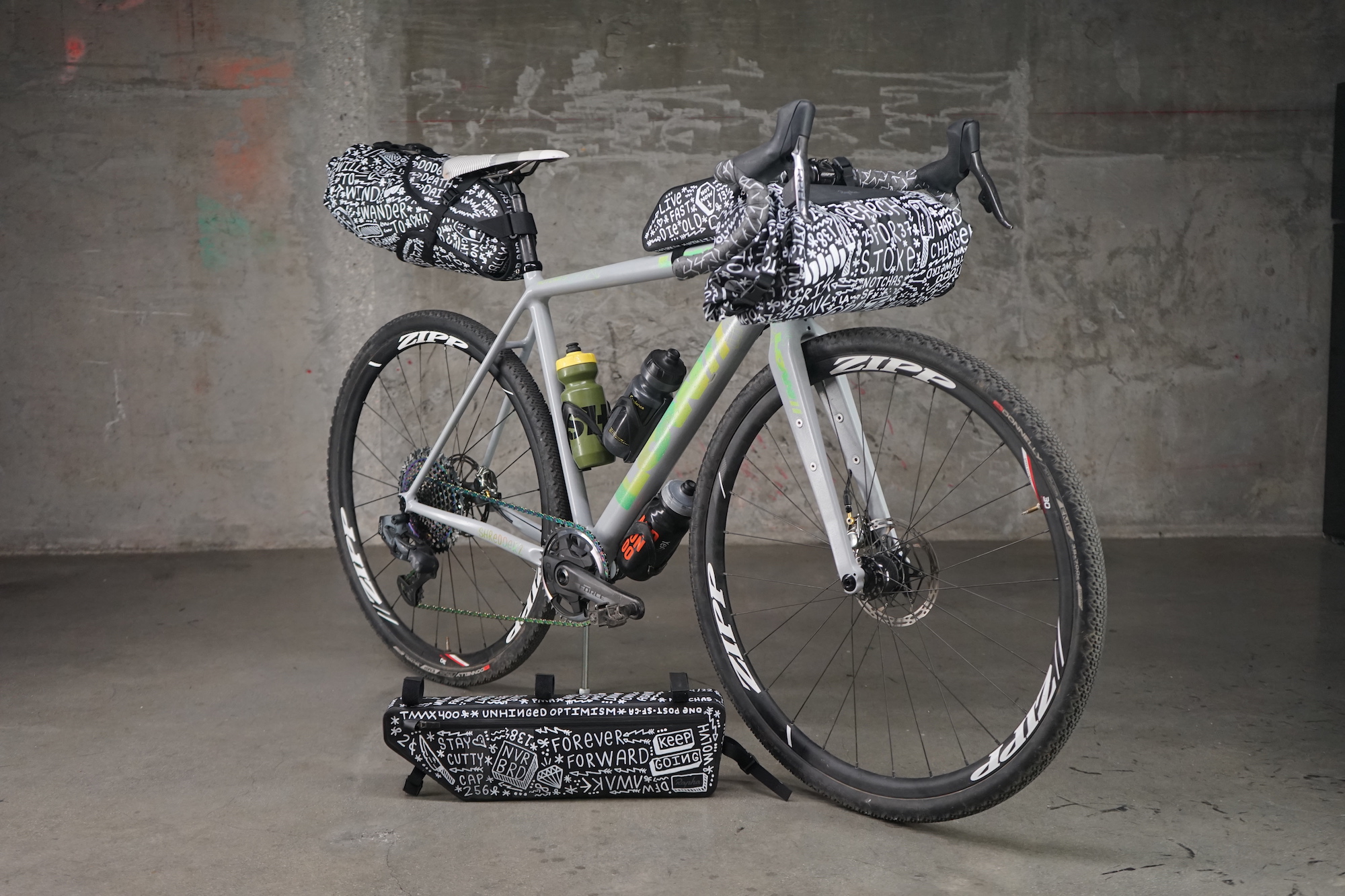 Mike Martin: The photo of your new endurance rig feels like you start to finish. I would love to hear more about the process of this current build. Your writing and experience after these trips is always so laser sharp. I can see so many stories in the bags for example. Can you take a moment to explain the process on these bags?

Chas Christiansen : YO, very stoked on how the bags and bike turned out! I have been planning this bike build for some time. I love my LOW MK1 gravel frame, but after 3 years of racing, it was time for a fresh one. I really wanted a cargo fork to allow for more gear and longer tours, so Andrew and I worked around a Rodeo Labs Spork v1 for the build. A few other small touches, such as a third bottle cage on the down tube, prepared the bike for longer adventures. As all the parts of the bike slowly came together over the course of a few months I kept on seeing these Rapha bags out in the wild. My buddy Robbie got a pair for his first ever bike tour, we spent 4 days in the Eastern Sierra's, and he was very stoked on them. A month later I met my buddy Nico in France for the TransPyrenees and he had the same setup, which he raved about. Every time I rode with someone that had the bags on their bikes, I noticed how the waterproof material looked perfect to draw on with paint pens. Sometimes you can just tell that a medium will apply smoothly and look great. So, as the 2019 season wound down, I reached out to Rapha about the project idea and they were into it. I got the bags just in time for the holidays and long hours in the studio.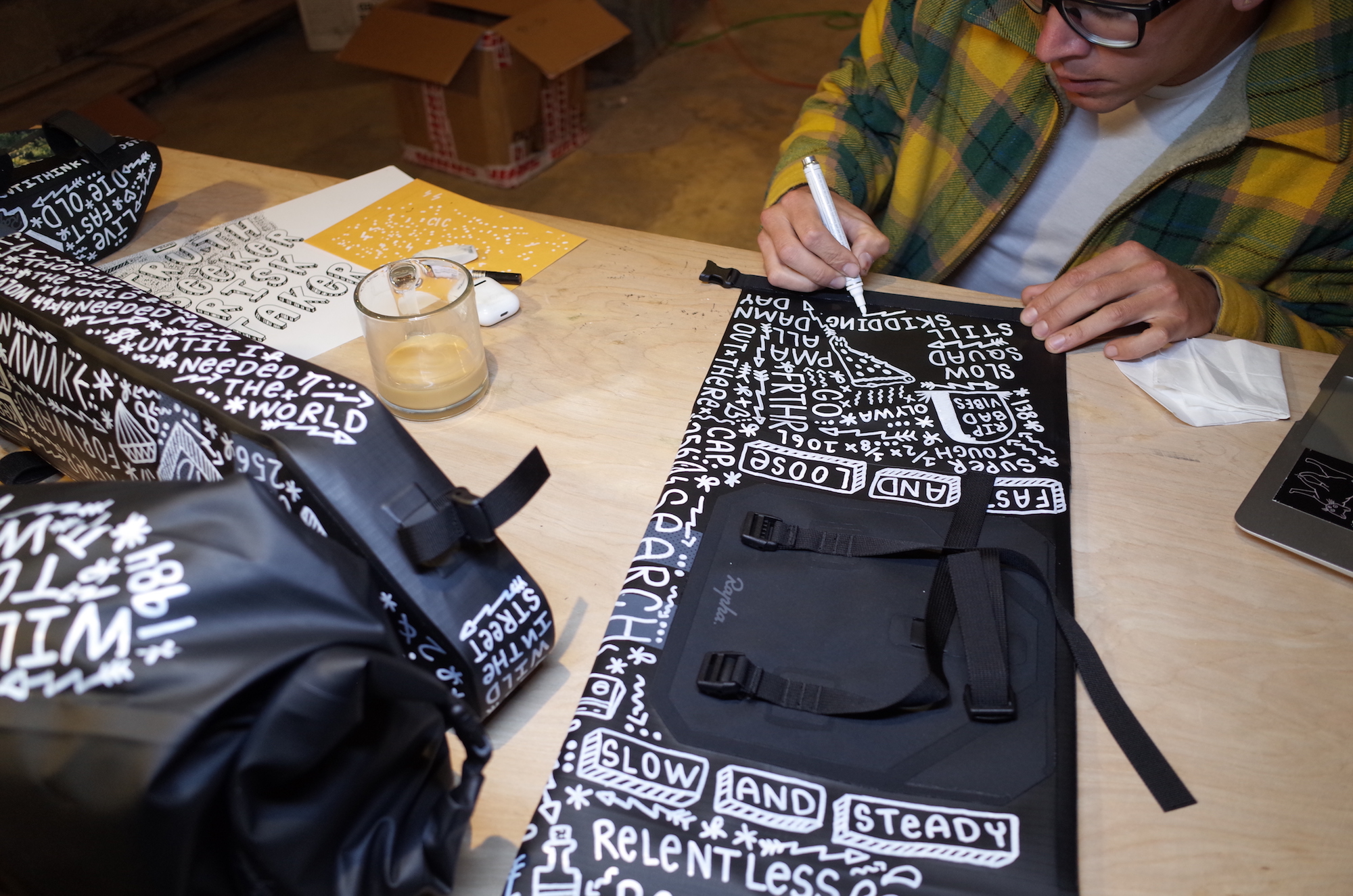 2: Do you ever find motivation/inspiration the bike can give you back while you are out there turning it out on one of these races? Ever find a typo or just find yourself laughing and agreeing to the messages?

Finding motivation from the bike and the equipment is huge for me! When you spend long hours on the bike you stare at the same things all day: your stem, your tires steadily rolling. So I always try to add motivational things to stare at. I am a firm believer in "fake it till you make it." And when I am hurting and exhausted reading the words written all over my bags keeps me going even if I feel like I can't keep the pedals turning. The constant repetition of PMA phrases can become like a mantra that I repeat until I feel better. Especially on solo rides. I find myself laughing out loud all the time (along with talking to locals cows or wildlife) sometimes at the situations I'm in and sometimes at the things I have written all over my bike and gear. There are more than a few typos in my art, one of the things I like about using paint pens is that much like real life, when you make a mistake you have to just get over it and keep on going.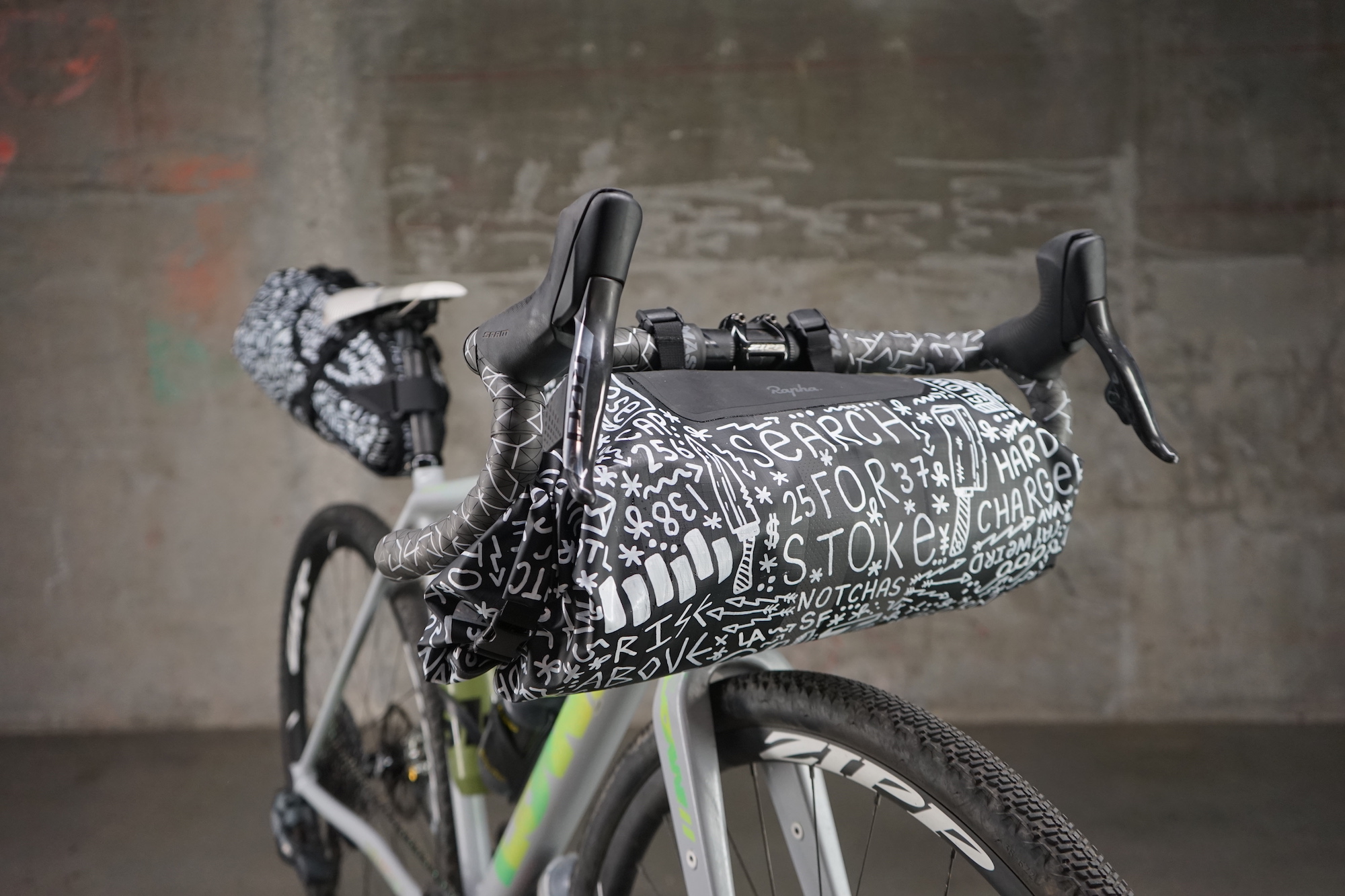 3: What was the process for these bags? Are they hand painted? printed? Will they age and show some of the life they will live out there?

As always, the process for my art is trial and error. I really wanted to find a pen that would stay on when you rolled the bags up. I usually use oil based DECO paint pens, but the ink has a tendency to crack and sometimes, because they are oil based, they can interact badly with waterproofing chemicals. I had also been wanting to try out the Krink K42 paint marker so this seemed like a great opportunity. I did a small test patch and was satisfied with how the ink didn't crack and how opaque it was after it had dried. So I set up a box fan and went to work, it's hard working with paint pens because they do not dry immediately, so you have to be very careful where your hands are so you don't drag wet ink everywhere. It can be hard to stop drawing when you are on a roll and wait for something to dry. I use a box fan to keep the air moving around, but it only does so much. After I finished all the bags I let them dry fully and then mounted them on my bike for a studio shoot at Andrew Low's shop…and then the ink cracked!! I was bummed because when I tested the ink it seemed to be flexible enough to adhere to the bags while not cracking, but I guess really rolling up the dry bags tight was too much. It wasn't as bad as it could have been, so I slowly went back and retraced all the art that had flaked off. Then I had to figure out how to seal the ink in so the art would stay with use. Spray clear coats generally are not flexible and can cause very nasty chemical reactions with various inks. So I went with a Sneaker clear coat. It's made to preserve custom shoes, it's flexible and acrylic but not that tough. I figured a slow and steady approach was best and spent 2 weeks applying a thin coat to all the bags everyday and letting them dry fully in between. The next time I went out with the bags I was pleasantly surprised to find that the shoe clear coat worked well. There was some cracking where straps rubbed on the bags but I like things to wear and patina with time, so I didn't stress about a little bit of wear as I used the bags. They are still fully waterproof and the art is sealed in adequately, they will show wear as I use them, but I dig that.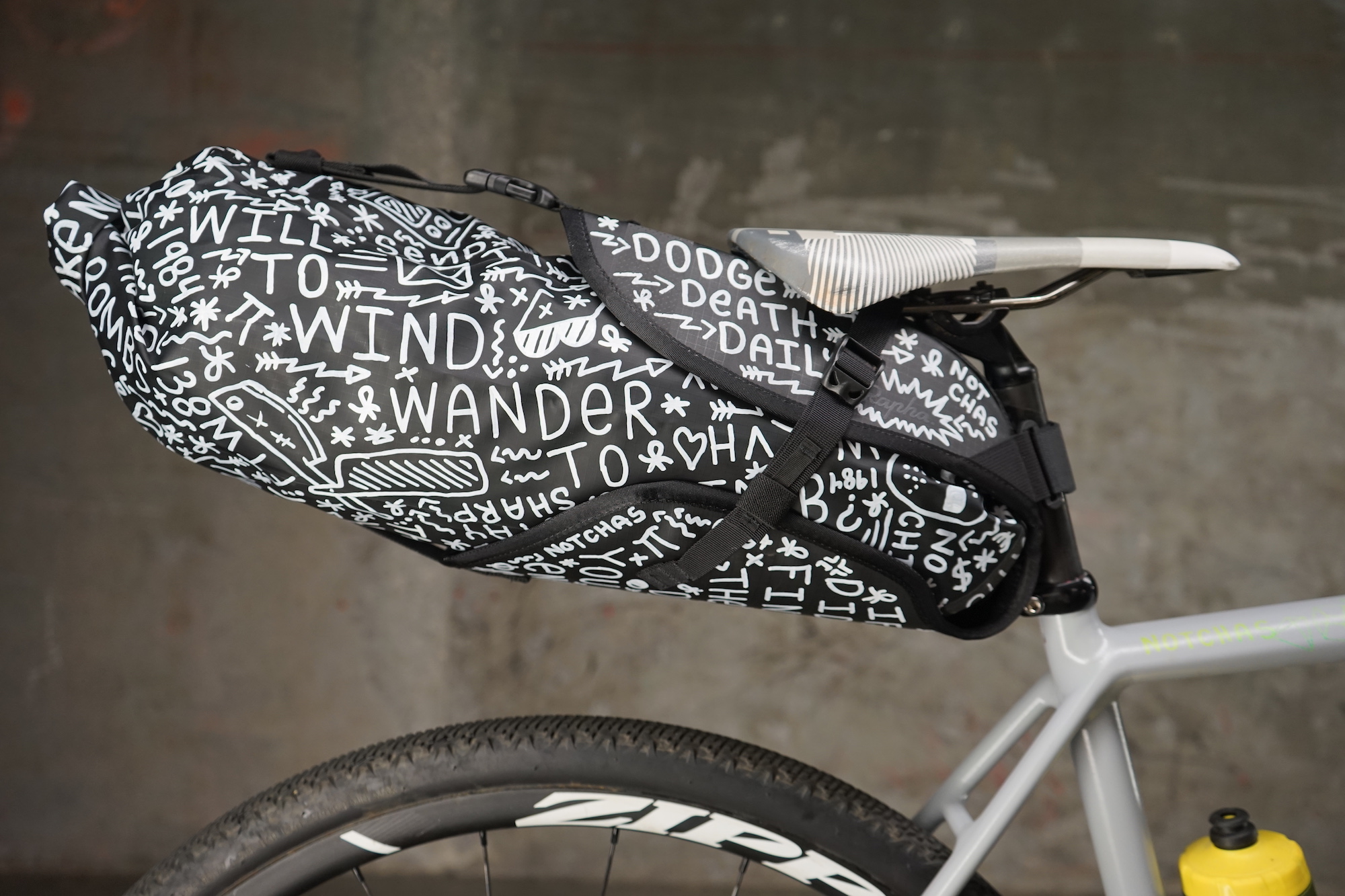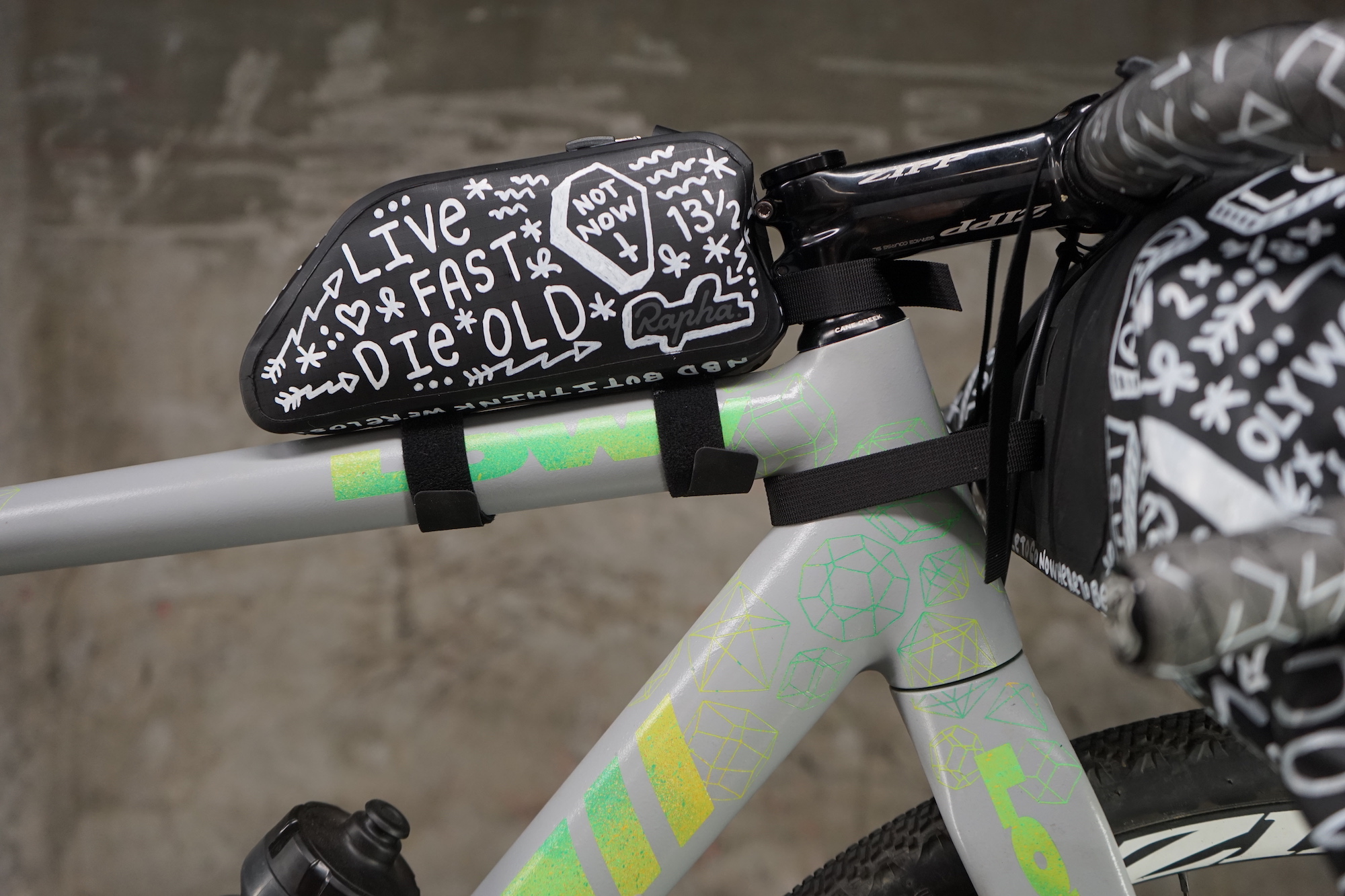 4: I always love when a series of personal interests are compiled to build something new. i see that in you, and your artwork, from enjoying marking on walls, to technical bags and bikes. Would love to hear how you have approached this project based on past experiences/interests.

It's funny how personal interests evolve as you grow older. I really enjoyed writing my name on walls as a young man, even got in trouble for it a few times. But the more I traveled and experienced the world the more I realized that most of the time whatever you put up on that wall becomes background noise. I started to draw on my bike frames, my cycling shoes and helmets because I figured people would see it and it would resonate with them. I used the words, phrases, and images to motivate myself and hopefully to get other people stoke out as well. When people started to ask me to draw on their gear I was so hyped! Each different piece had it's own challenges and I've learned something from each piece I have drawn on. Like I said before, everything is trial and error with me, so I took the sum of everything I had learned before this project and tried to create what I saw in my head. It kind of worked, and even when it didn't that was just an excuse to try something different. It is a lot like real life, you imagine something, and when you set out to do it, whether it be cooking dinner or racing your bike, things always turn out different than you planned. Sometimes better and sometimes worse but regardless you learn from the experience and take that knowledge with you.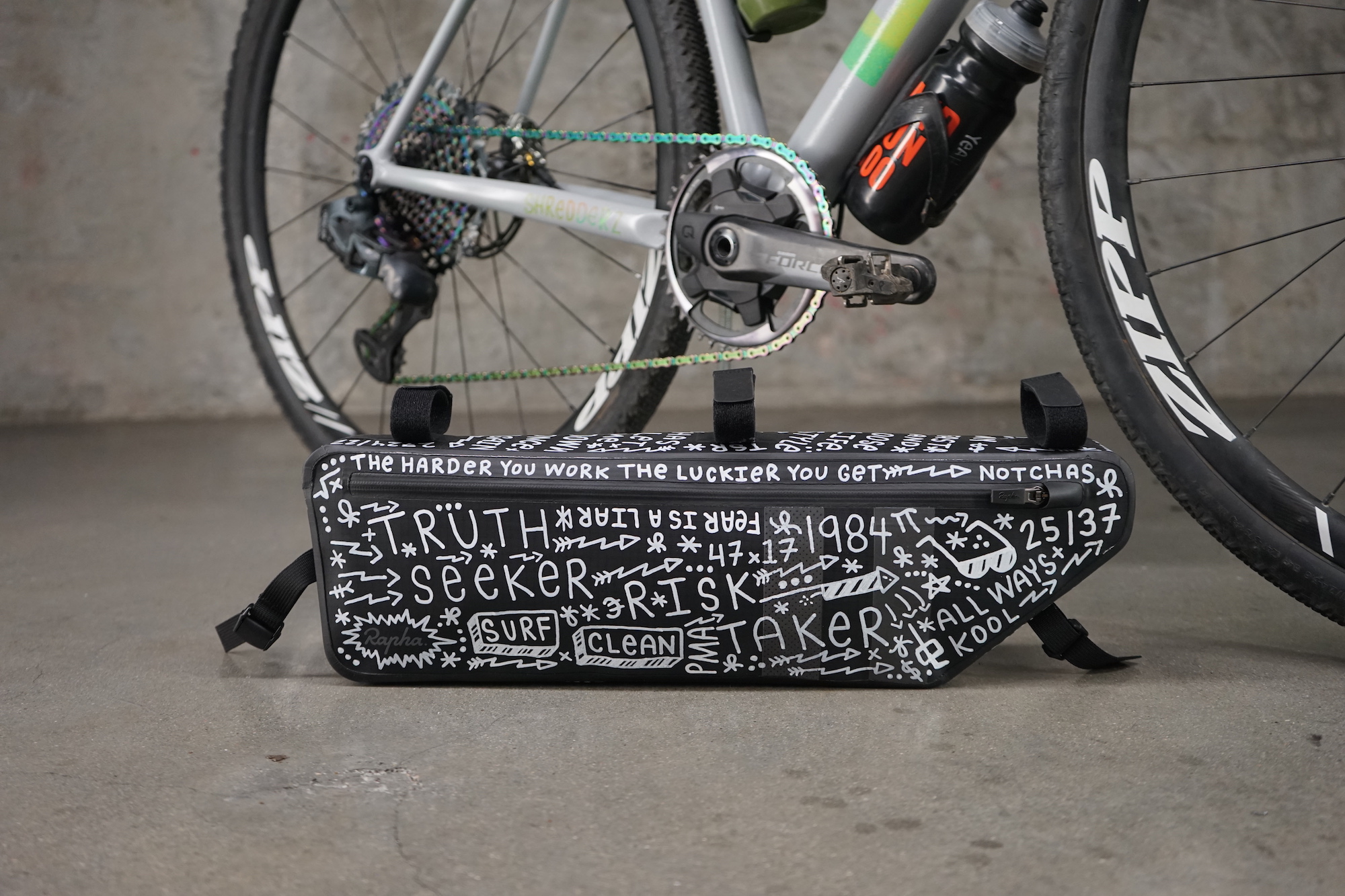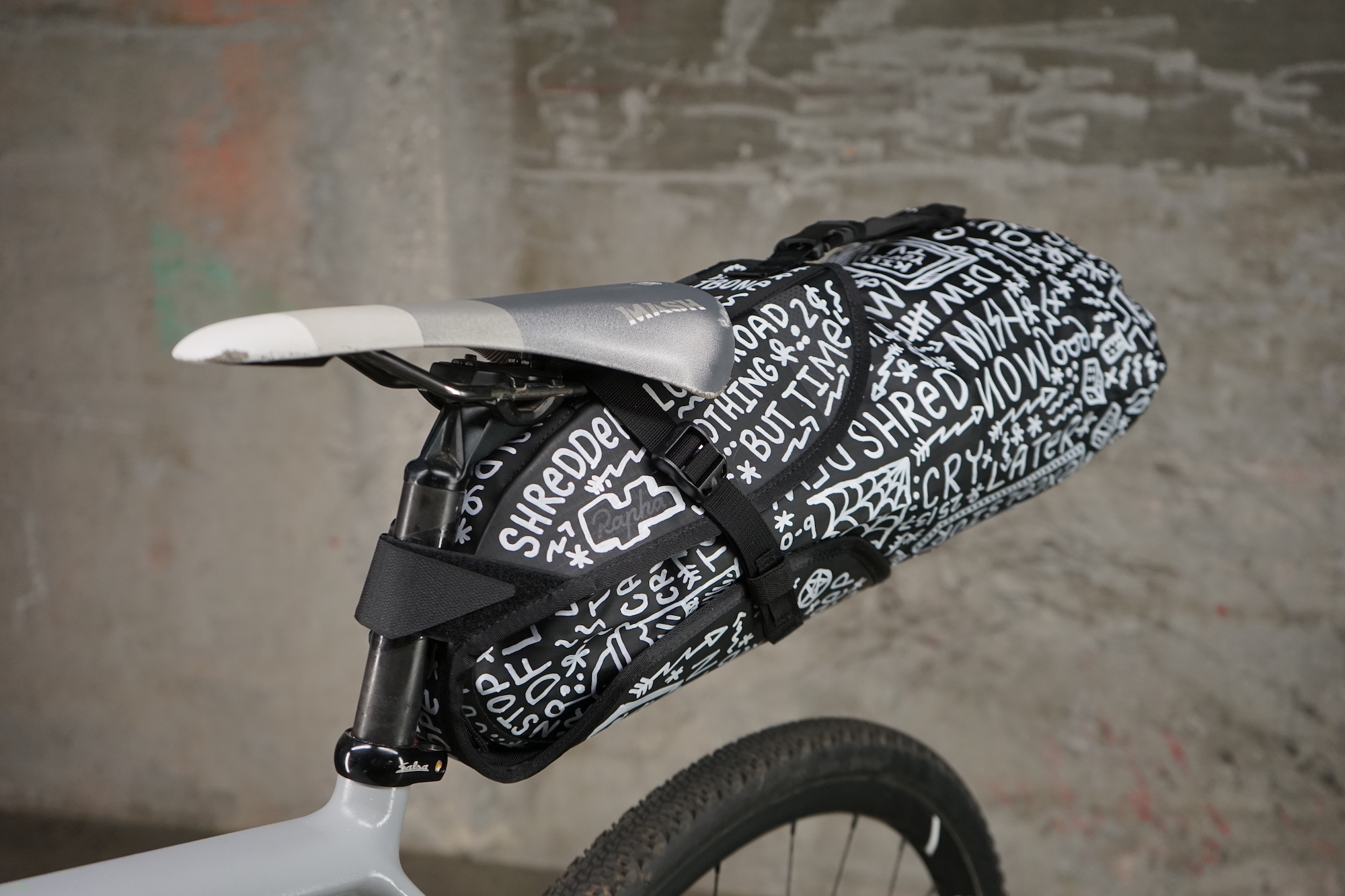 6: Wait, you painted the frame too? Would love to hear more about you initial vision/goal, and where that brought you to the finished project.

Yea!! I was very excited to paint this new LOW! I had used Spraybike spray paint on a couple of chiller projects before but was stoked to be able to conceptualize the frame from new. I really like the muted grey color of my LOW MK1 and wanted to keep that vibe going. The Maipei/Colongo livery from the late 90's has always been a favorite of mine as well, the color fade on the geometric shapes is ultra cool. I wanted to take it a little further and try to use some of the more esoteric mathematic shapes I could find. While the formulas and actual math behind a tetra-decahedron are beyond me, I still find the shapes fascinating. I researched as much as I could and then drew the shapes in my studio, a good friend digitized them and then you helped me cut them on the vinyl plotter. Once I had weeded all the vinyl stickers it was time to apply them to the frame over the colorful first layer. Spraying on the muted gray final color and then revealing the colorful shapes underneath is equal parts stressful and cathartic. Once again trial and error. I wish I had made the lines thicker on the shapes so they stood out more and held their edges better, but next time! Overall it turned out rad, and even with multiple layers of clear coat is already starting to show signs of use, so i can't wait to see how the paint job wears as I shred on it all year!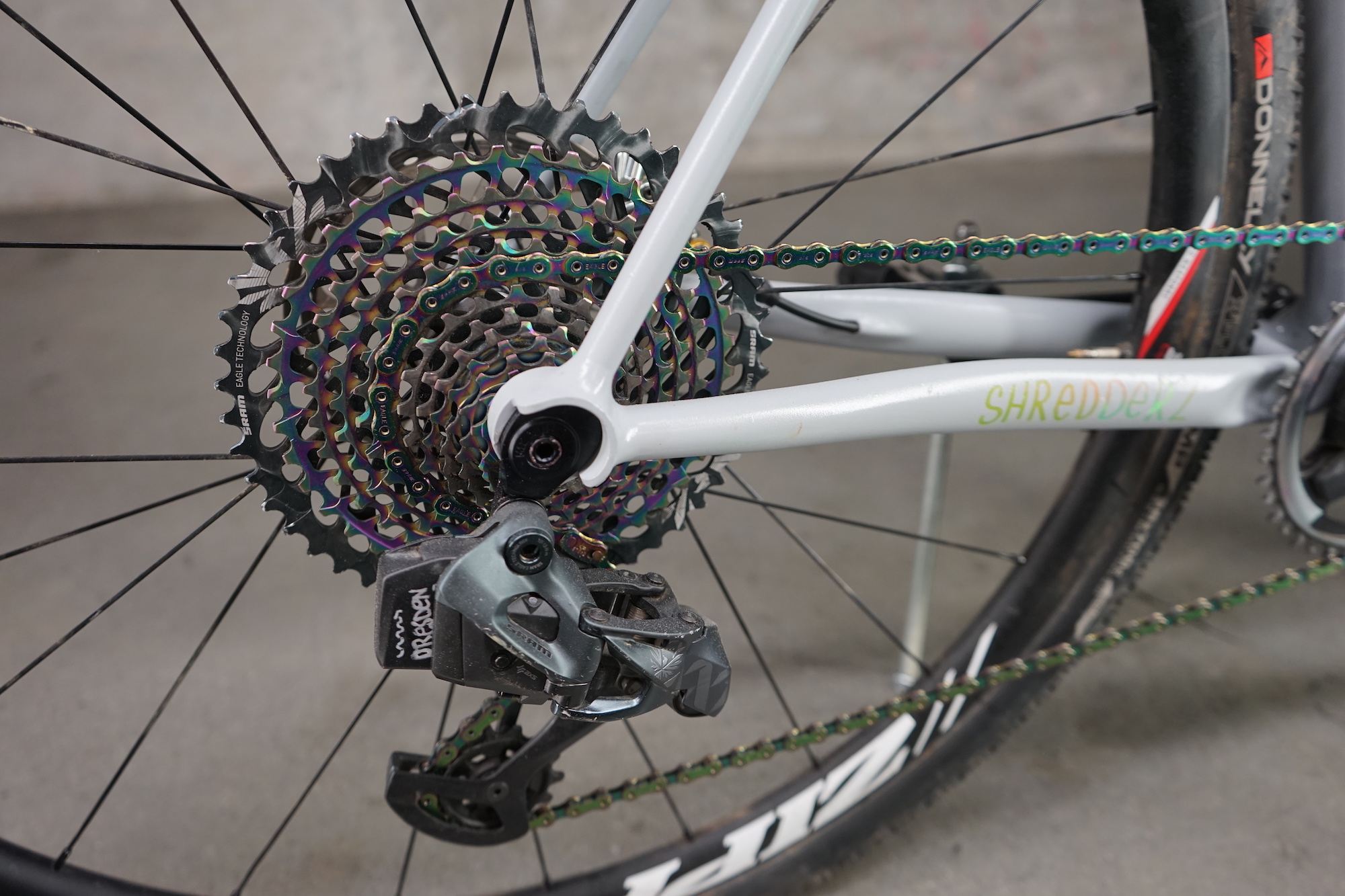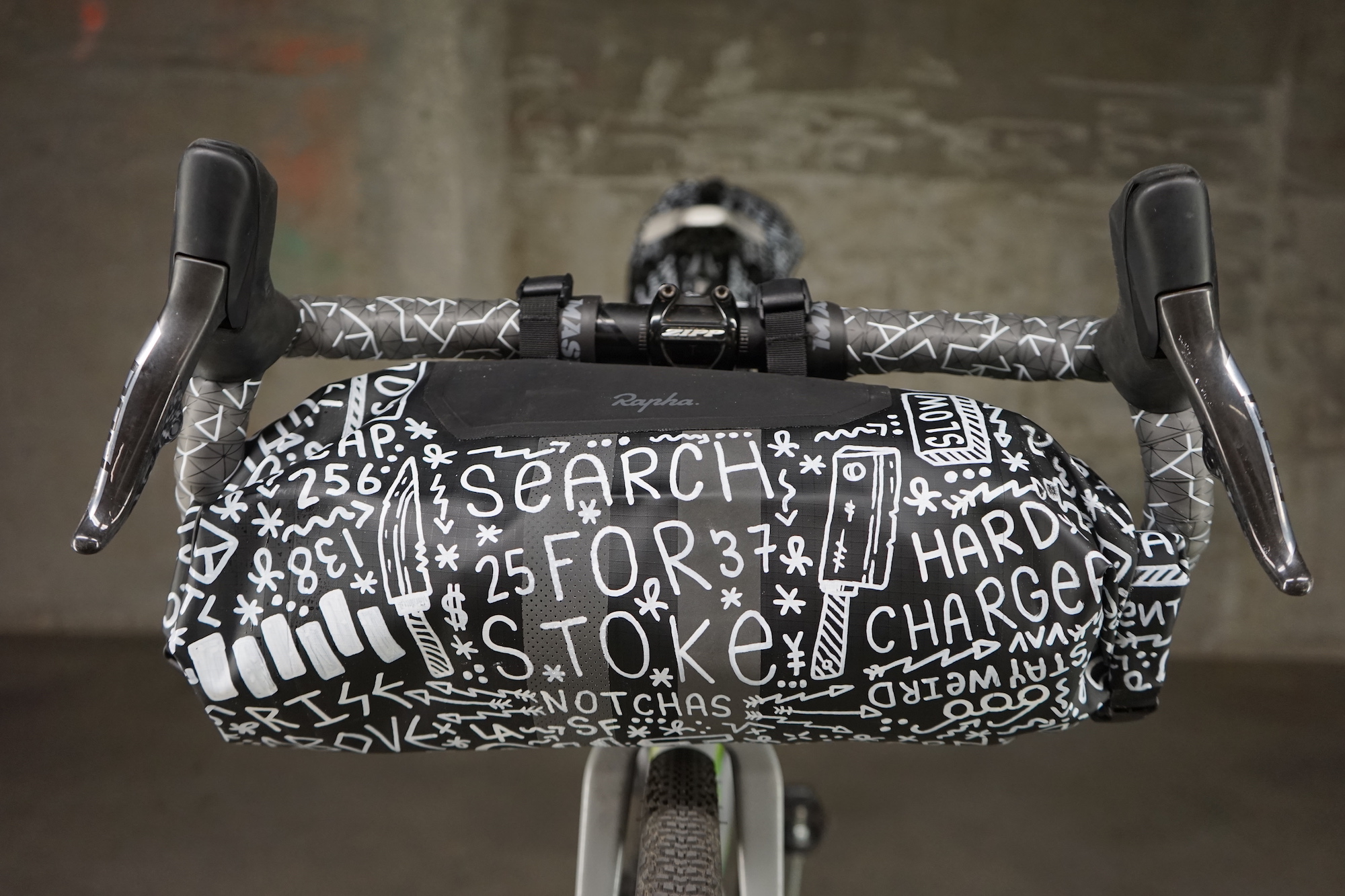 7: Would love to hear about how you're past experiences shaped this current build. Is it event specific in any way this time around?

Every time I go out on a tour or race an ultra I always think I have the bike set up dialed, and inevitably when I get home I have a list of things to change. I think this comes from working as a messenger, being on the bike all day, fully in tune with your machine. You begin to obsess about the smallest details. So THIS build is going to be the fruition of years of riding and will…need some work eventually. I took my experiences racing mostly road ultra's like the Transcontinental, as well as crazy dirt races like Further and tried to have them meet somewhere in the middle. The SRAM "Mullet" group is a solid solution, it pairs road style shifters with a single ring and MTB rear cassette and derailer. The front ring is a 42t (soon to be a 40t for Atlas Mountain Race) and the rear cassette has a 10-50t range. We lovingly call that extra bit above a 1×1 ratio "oververt" in homage to gnarly skateboarding ramps and it really comes in handy when slogging up mountain passes fully loaded. I have never needed more speed than the 42×10 has been able to give me, if I'm going that fast I should be coasting LOL. The cargo fork is a nice touch that allows me to carry substantially more gear and stay out longer. I improvised a similar fork mount to carry water on a long self supported ride this last year and am very stoked on a more legit setup. In these photos the wheels are 700c ZIPP alloy rims built to an 12spd rear hub and a SON dyno power front hub. The ability to generate power from riding and charge all my gear without having to get off the bike is huge, especially since my bike runs on batteries. For the Atlas Mountain race I have a set of ZIPP 303 650b carbon rims laced to the same SON Dyno, to allow me to run bigger tires for the harsher terrain. I really like the new ZIPP XPLR flared drop bars. To be honest, I was always against flared bars, but having ridden them for the last 6 months the stability and more open shoulder position has grown on me. For Atlas Mountain Race I will have a set of Aero bars installed, which I kind of hate aesthetically but love functionally. I also mounted my Sinewave light/usb charger to the aero bars to get the light as high as possible for maximum illumination. Every build will need tweaks and changes as things go but I am very stoked on how this turned out!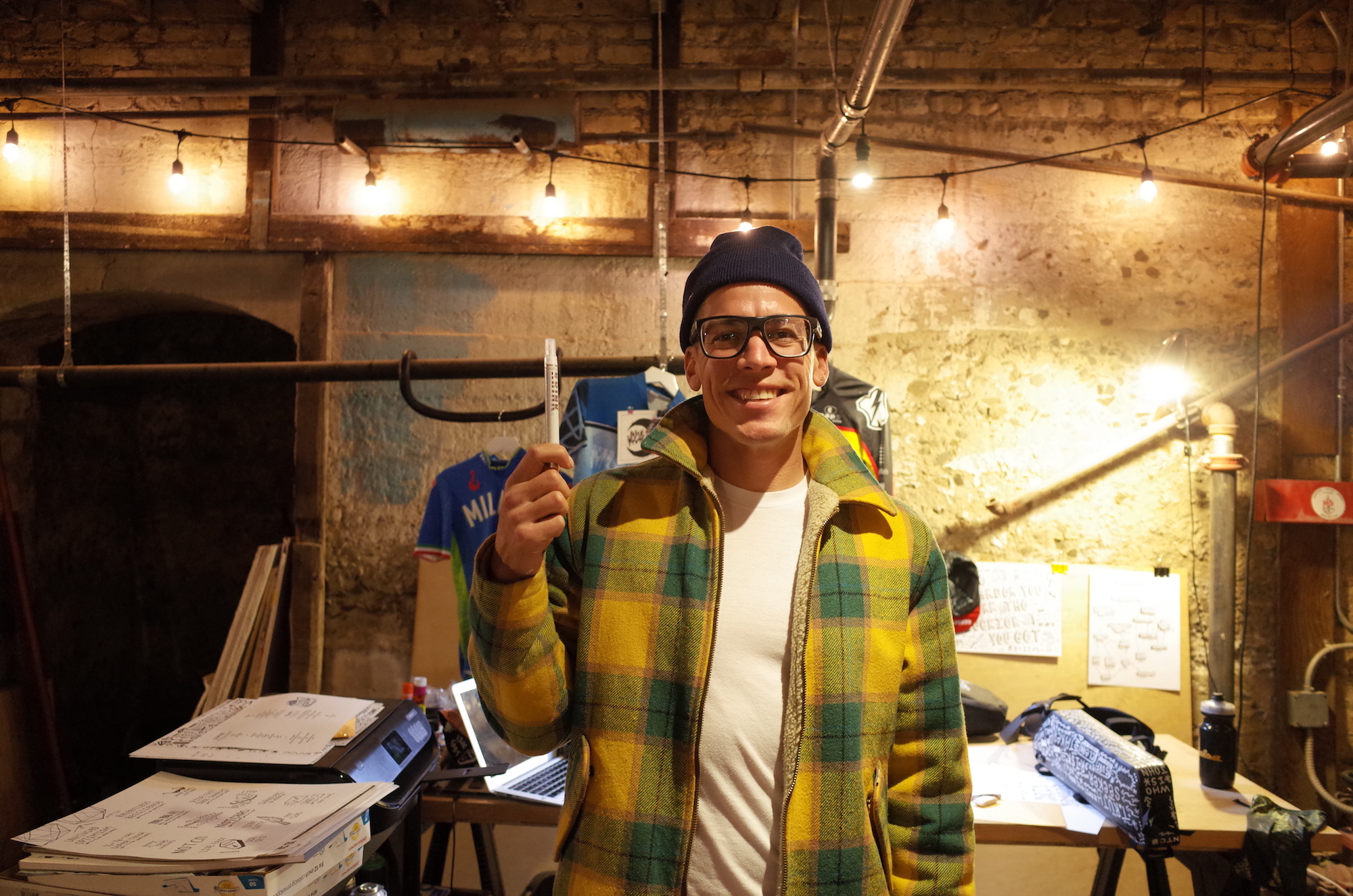 The bike will be on display on Friday March 6th 2020 at the Rapha Clubhouse in San Francisco, I'll be there as well talking about the Atlas Mountain Race. Come by and hang out, check out the bike and bags in person and pick my brain about ultra endurance racing. RSVP HERE