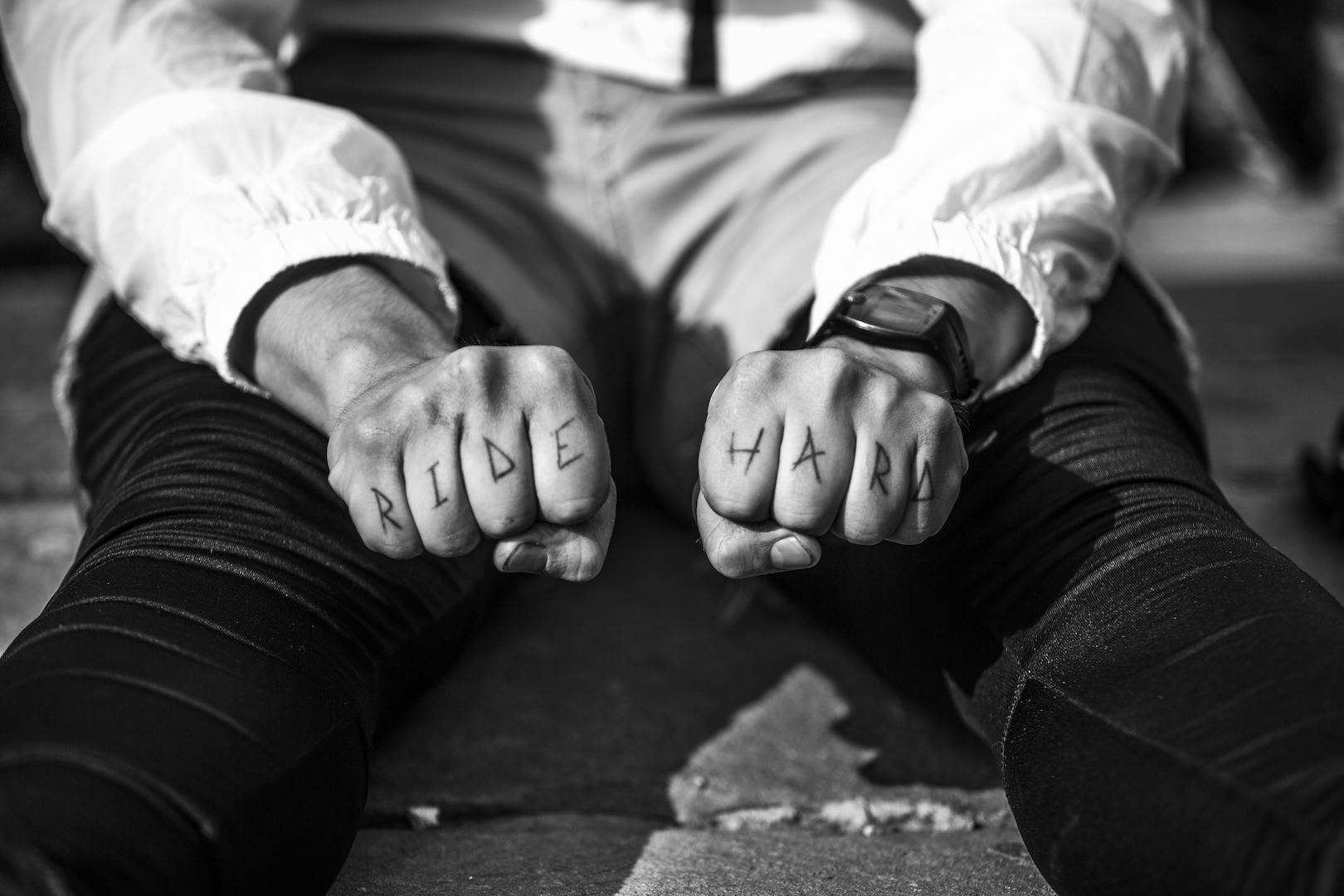 Last weekend I had the opportunity to go out and race in the RESPUBLICA SUPERIOREM NON RECOGNOSCENS in Genoa Italy.  The guys of SCVDO GENOVA (pronouced "scudo" or shield in Italian) had been planning this ripper of a brakeless alleycat for some time now.  They wanted to show racers THEIR Genoa,  the streets, the dirt, the climbs and the cuts, the routes that get them stoked.  The 58K, 8 checkpoint race with over 1K of climbing took racers through dense traffic, desolate dirt trails and sweeping descents down narrow Italian roads.  Racers from all over Europe both messengers and rippers alike gathered last Saturday to shred Genoa on their brakeless track bikes.  All photo's by Francesco Bartoli Avveduti  @whoisfrabba
8 checkpoints in order, every checkpoint had a real live person at it! Which from a racers standpoint especially a lost out of towner is amazing!!!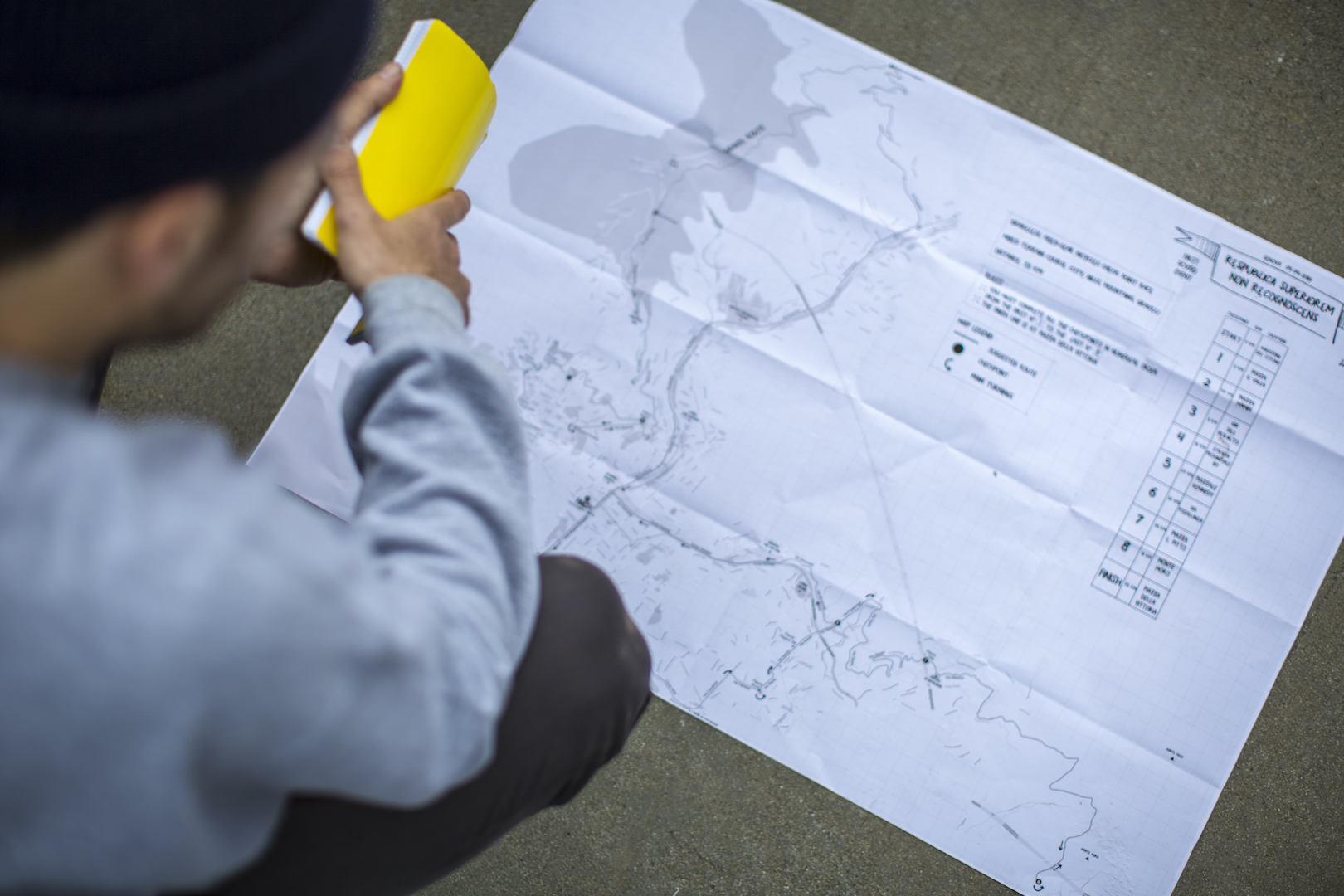 The SCVDO boys gave a suggested route,  but encouraged any and all shortcuts.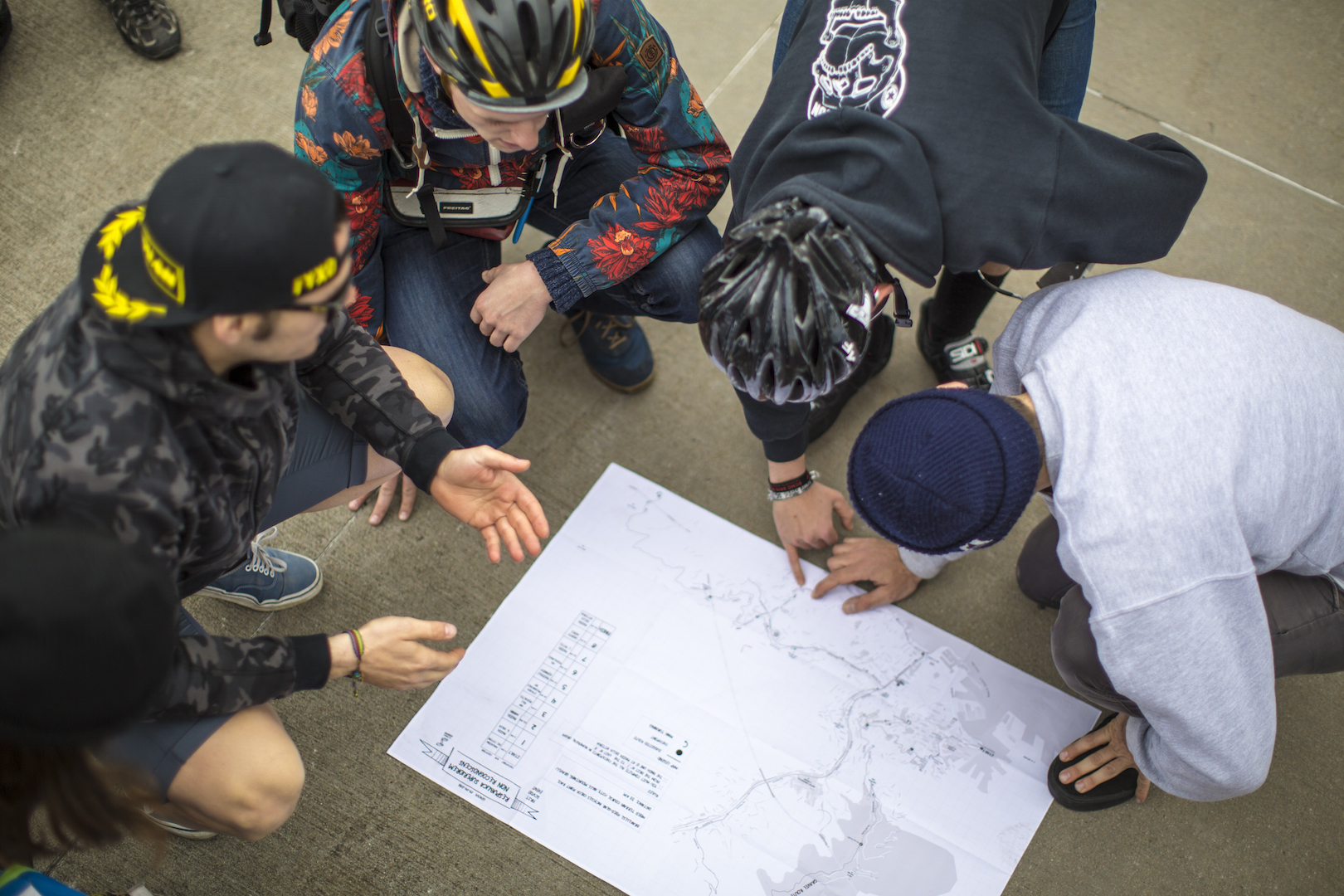 There was a lot of discussion at the start about routes as racers from different cities and countries tried to figure out the fastest cut.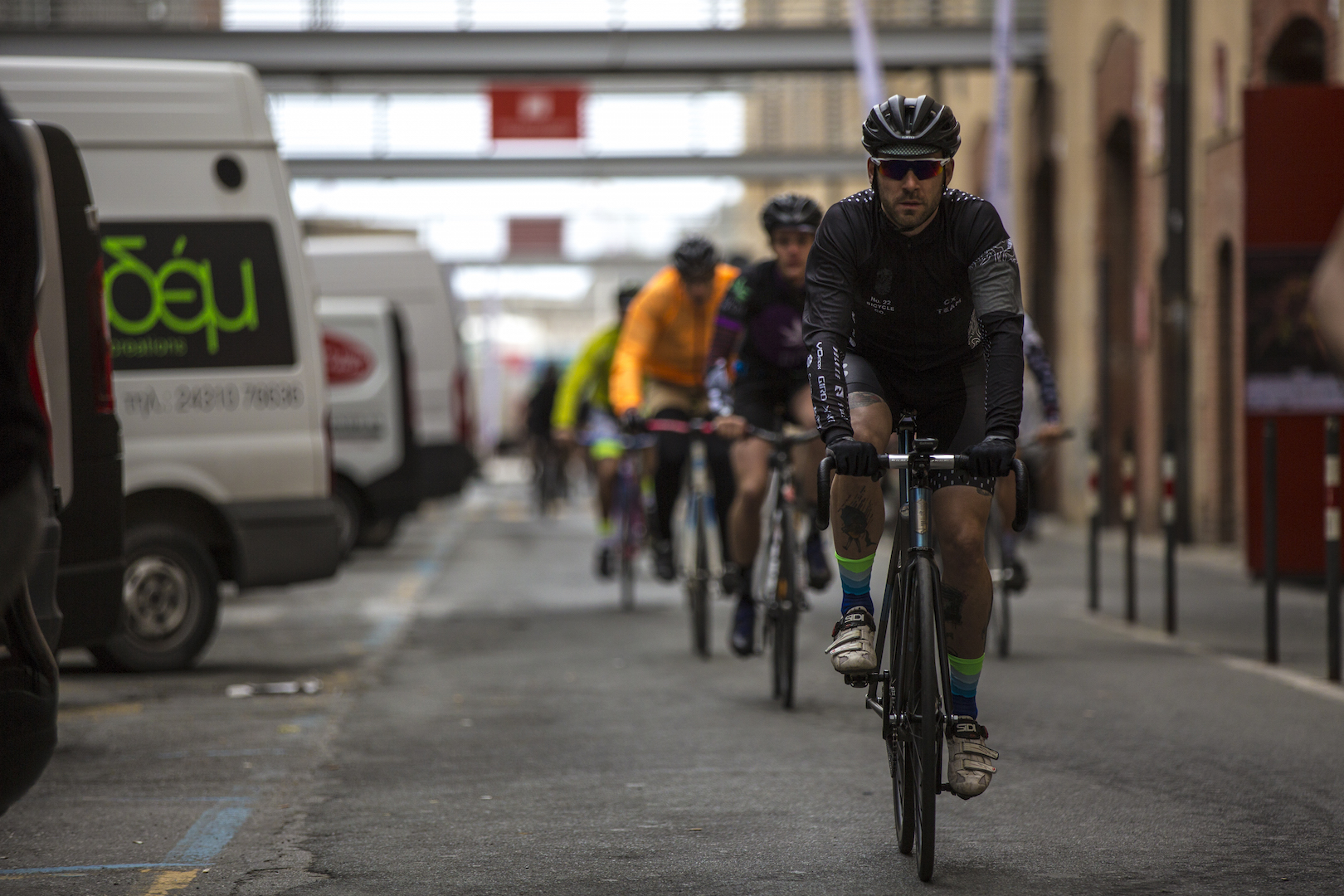 The race started right on the water in the historic dock area of Genoa,  since it was a Saturday racers had to navigate a crush of pedestrians on their way out.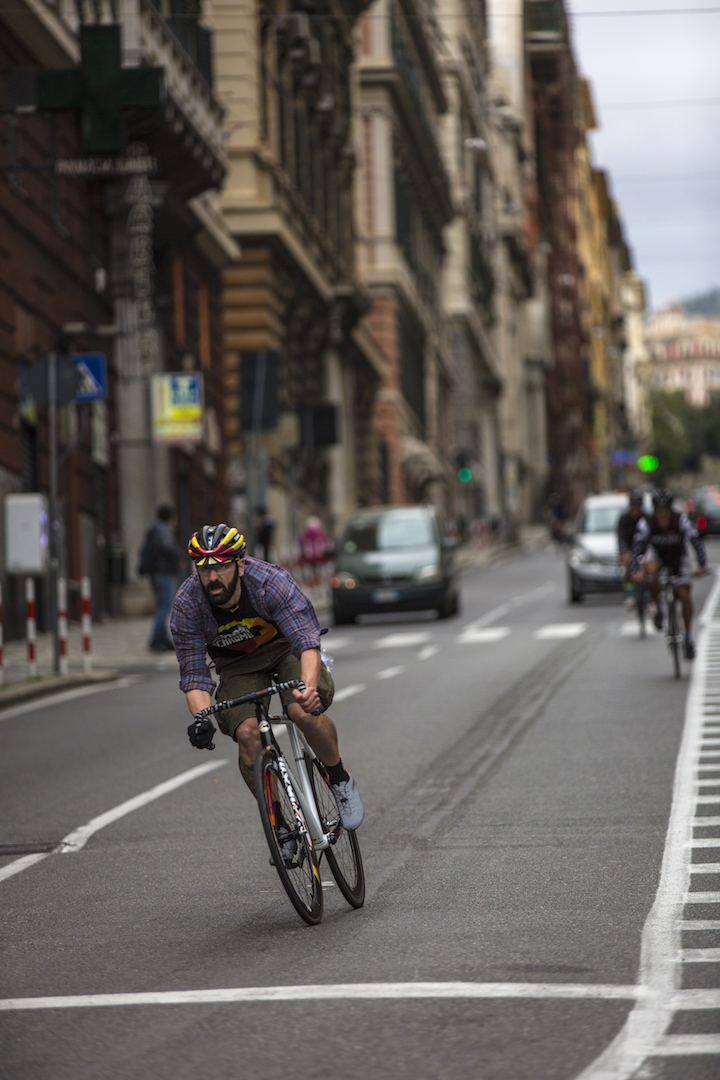 Alessandro Bruzza of Cinelli Chrome is a Genoa native and came out to show us a thing or two about his home town streets.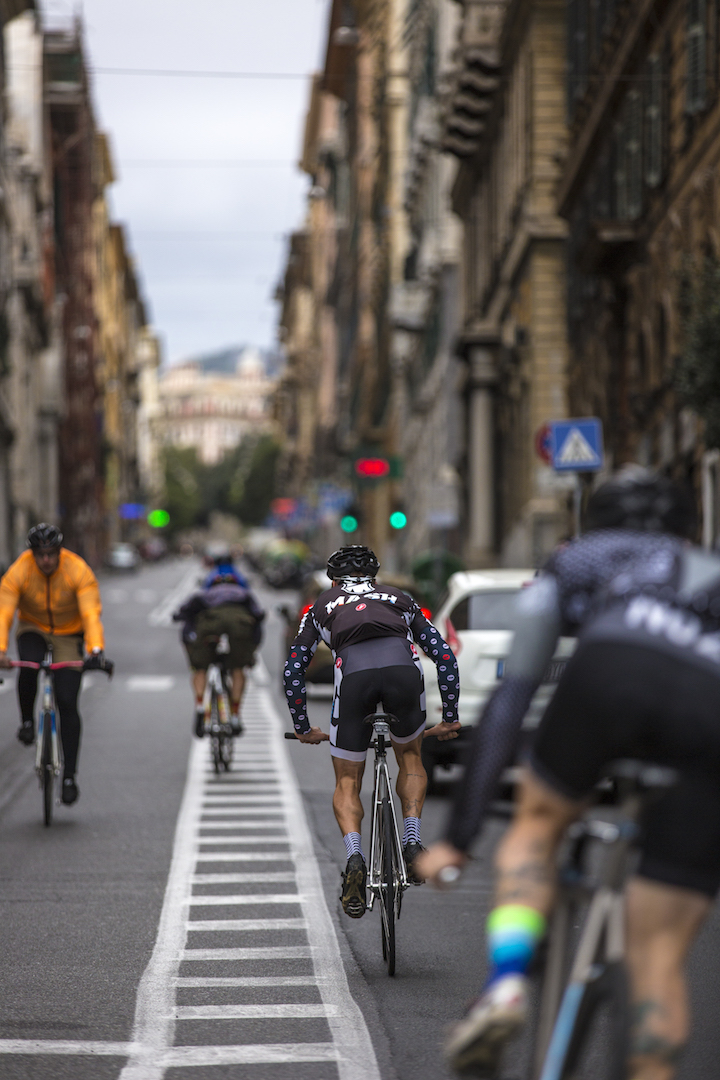 The field held together early on as we navigated 3 checkpoints in the urban crush of Genoa.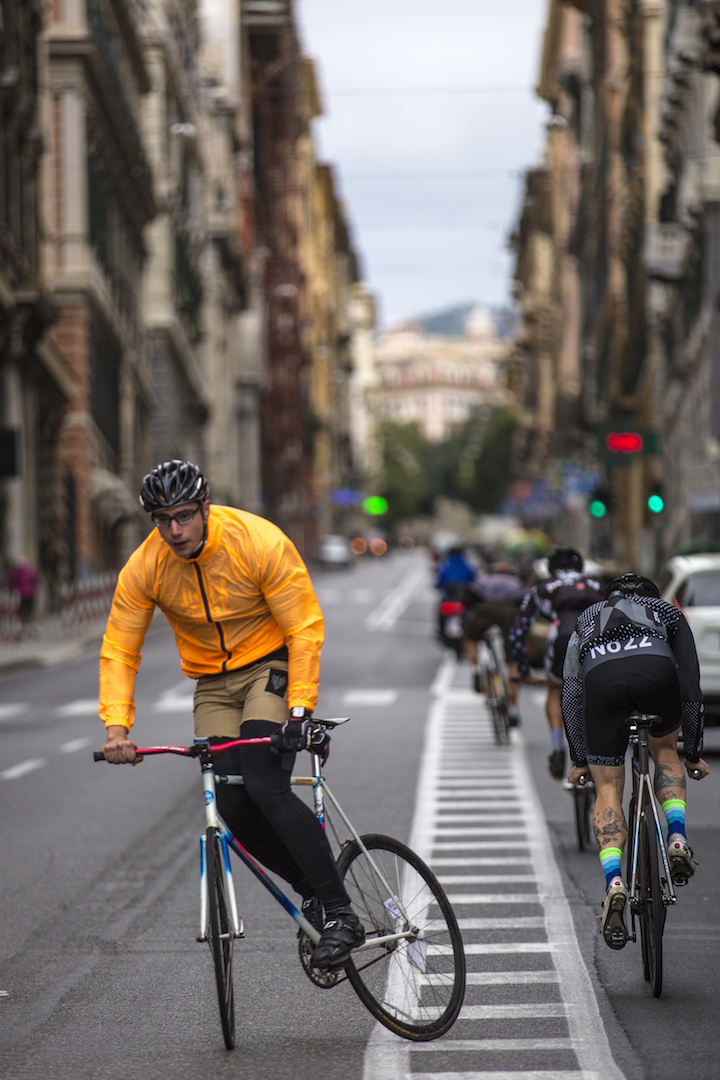 Themis Antoniadis a Greek messenger from Athens braved an airport strike to make it out to the race!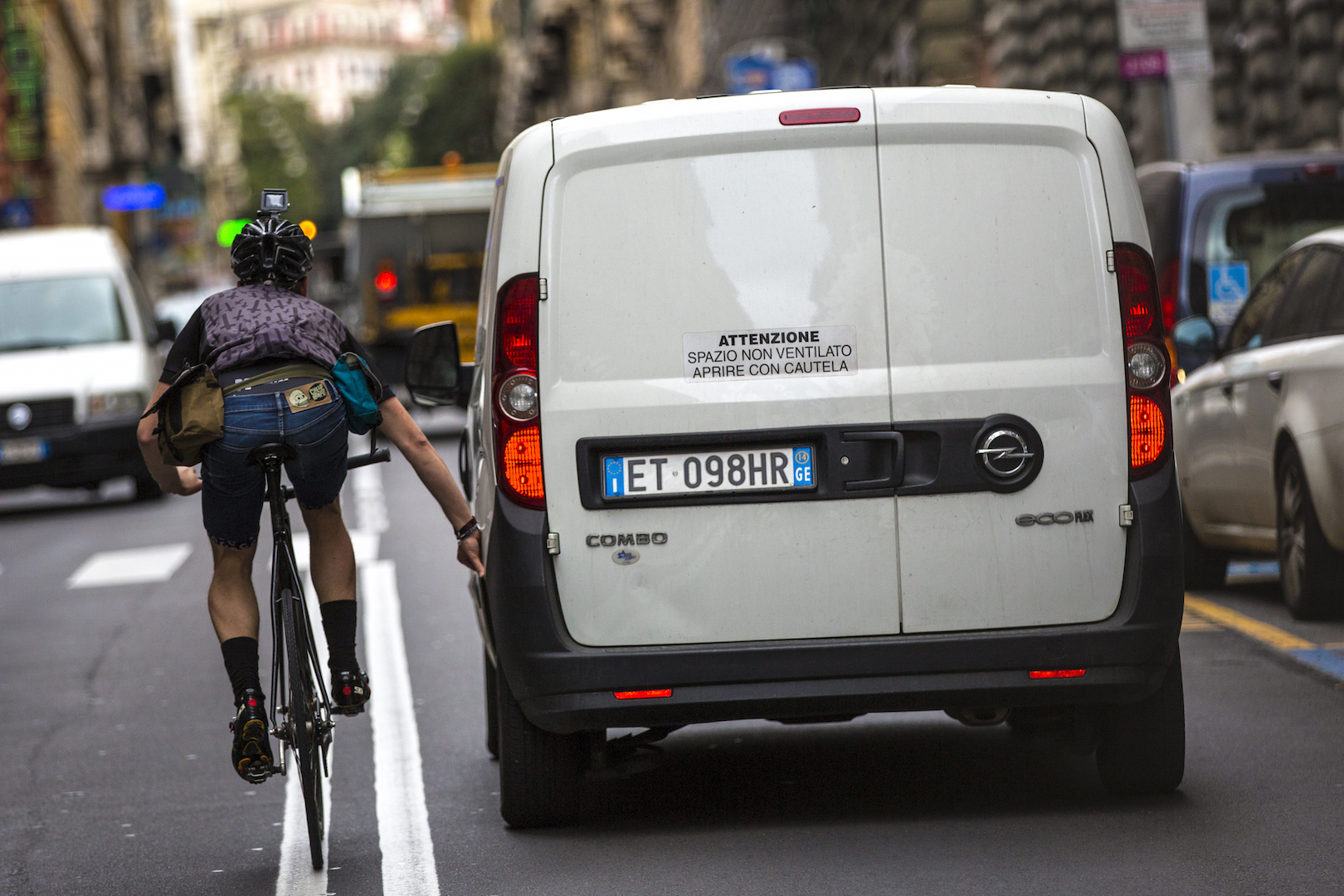 Daniele a messenger of Bici Courier and the racing team WEED DELIVERY out of Milan kept it cutty in the streets.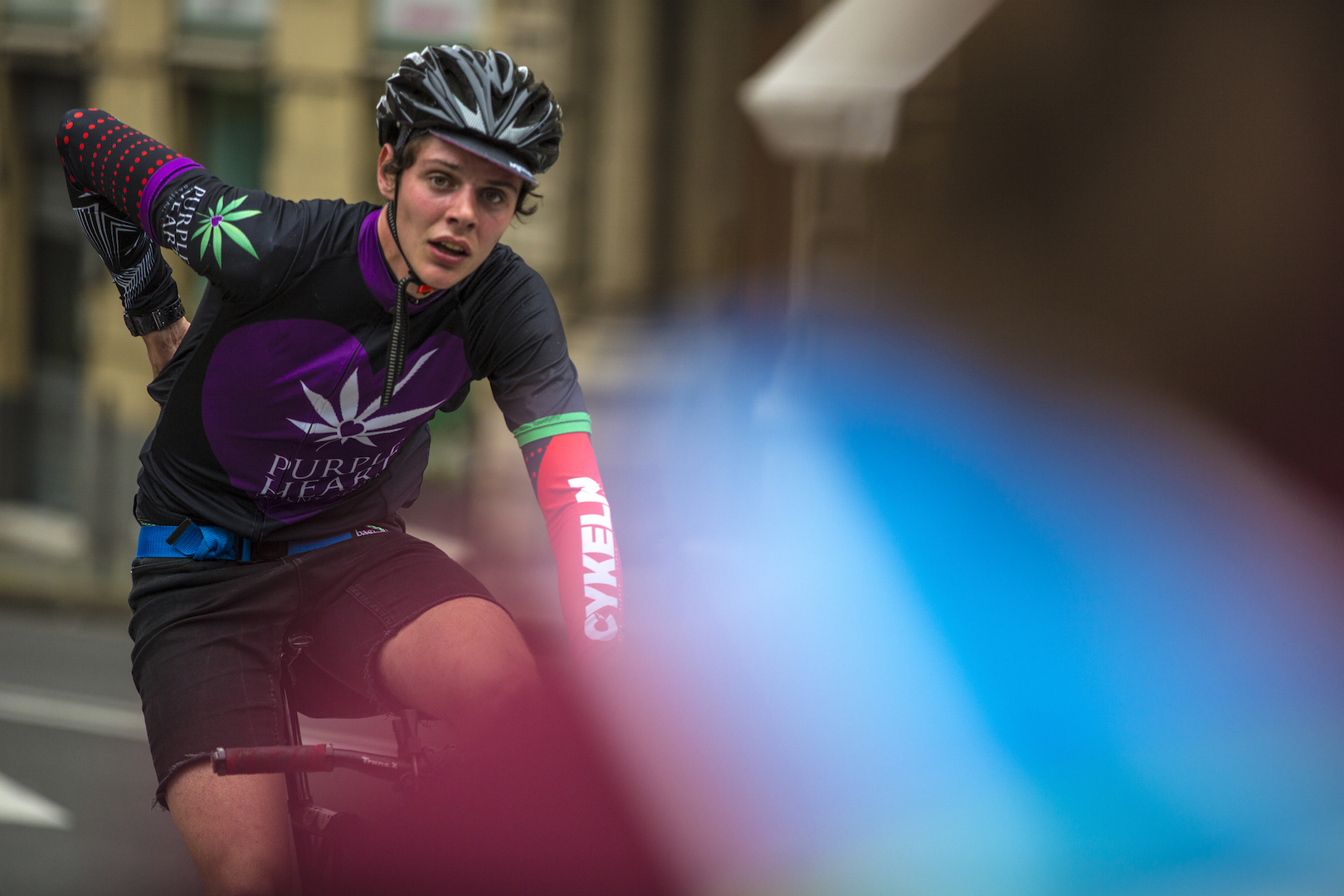 Lollo Capella also of Bici Couriers and Team Weed Delivery in Milan missed the skitch Danielle got but caught back up at the next checkpoint.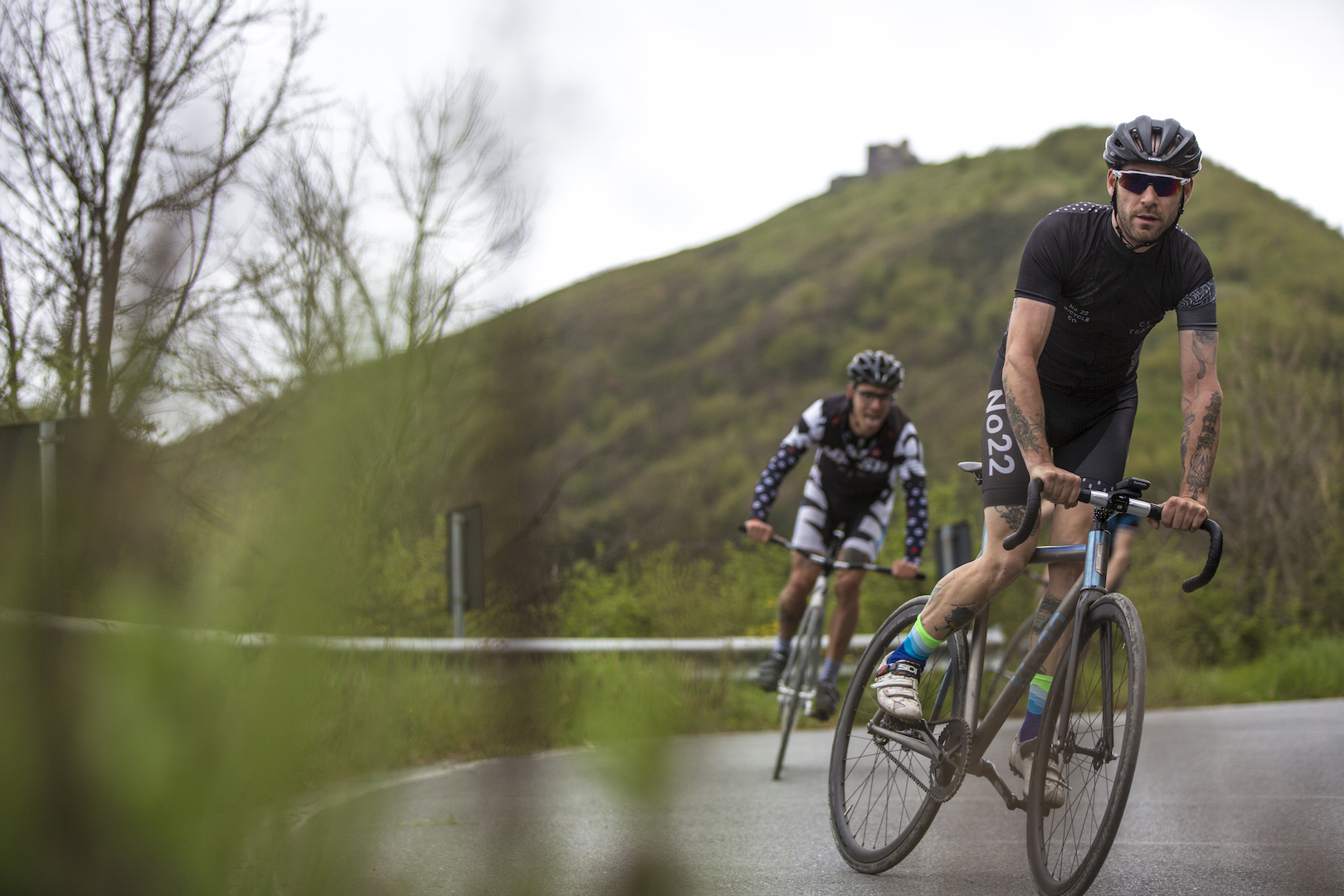 Wilis from Deluxe Cycles in New York came out with me to shred around!!  Great to travel with good friends!
Turkish Airlines decided to leaved my bike at SFO, luckily I was able to borrow Vito from SVCDO's new LOW pursuit frame for the race!  It had uncut riser bars on it and I had a blast from the past bombing hills on his set-up!!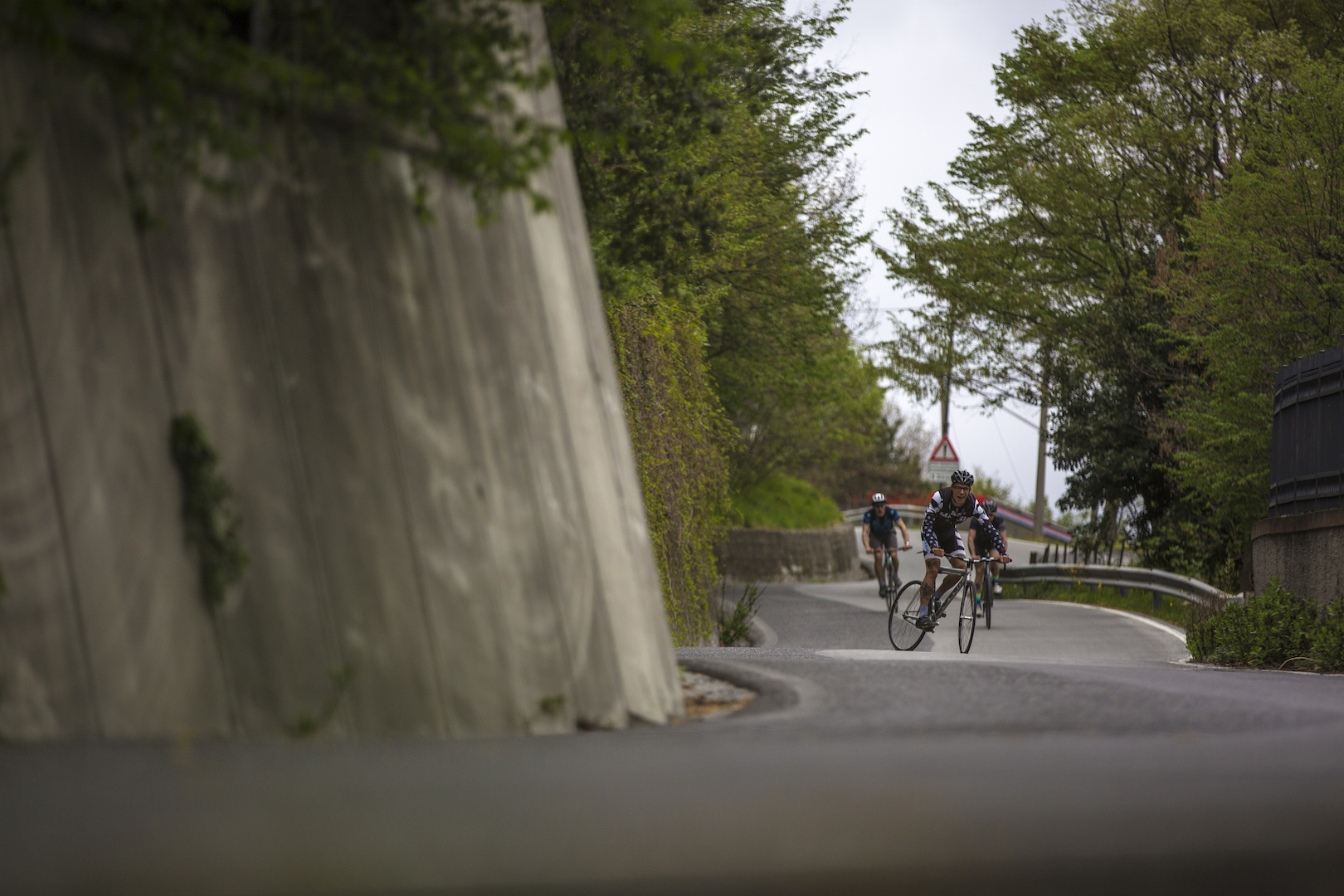 After the dirt section only 3 of us remained in the lead group, Myself, Wilis and Andrea a messenger from Verona Italy.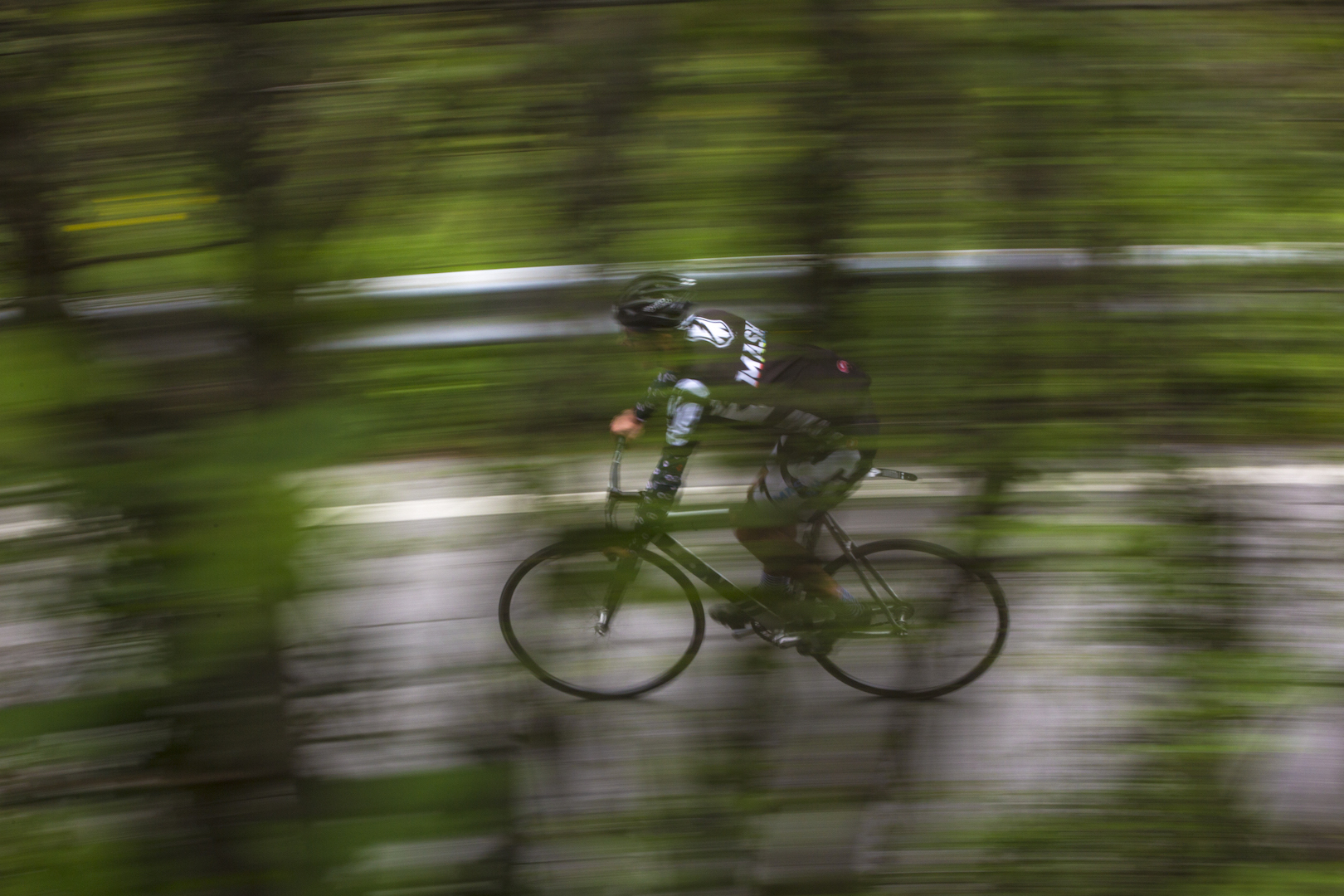 After the climbs came the ripping descents down twisting narrow back roads!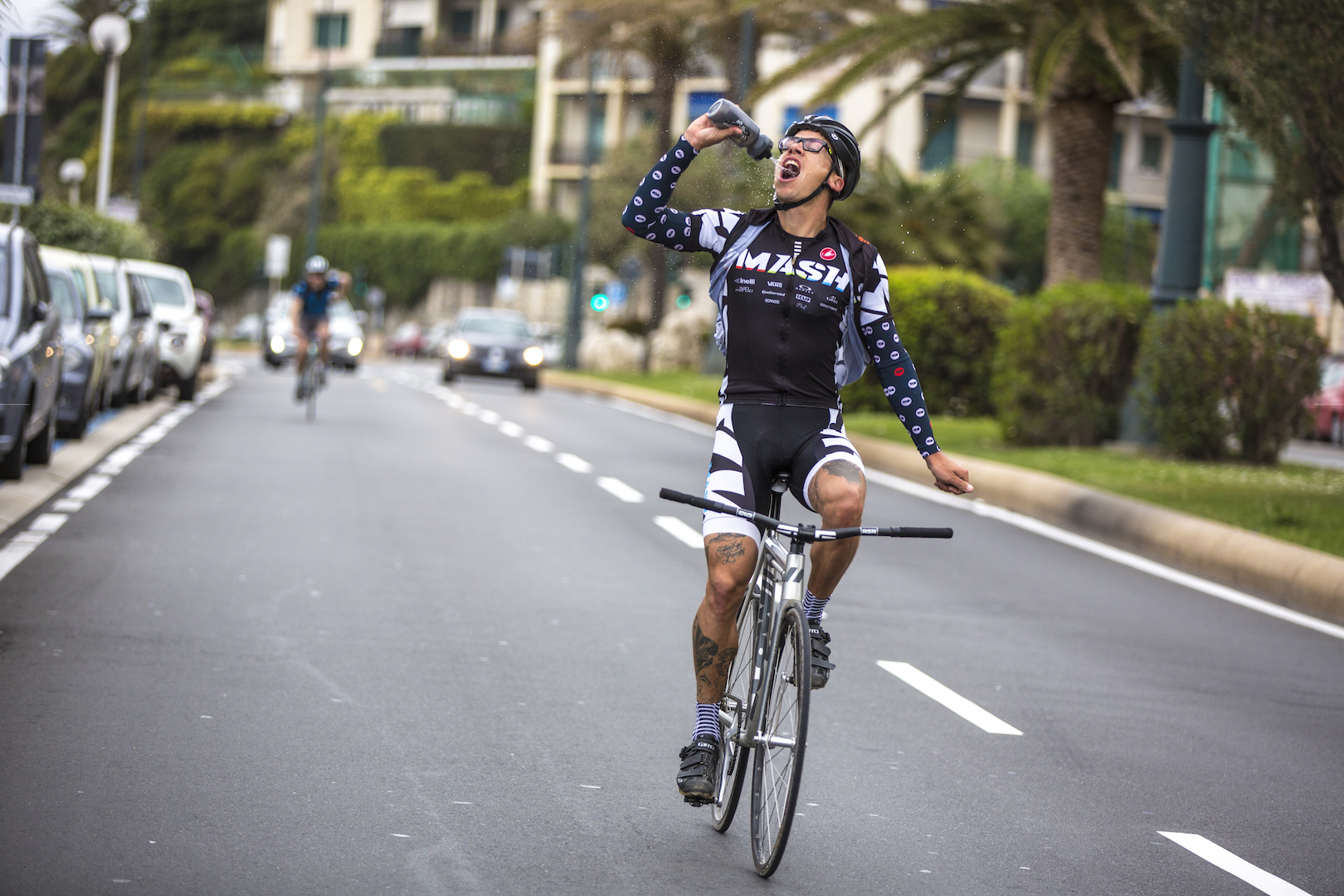 Hydration is an important part of any bike race.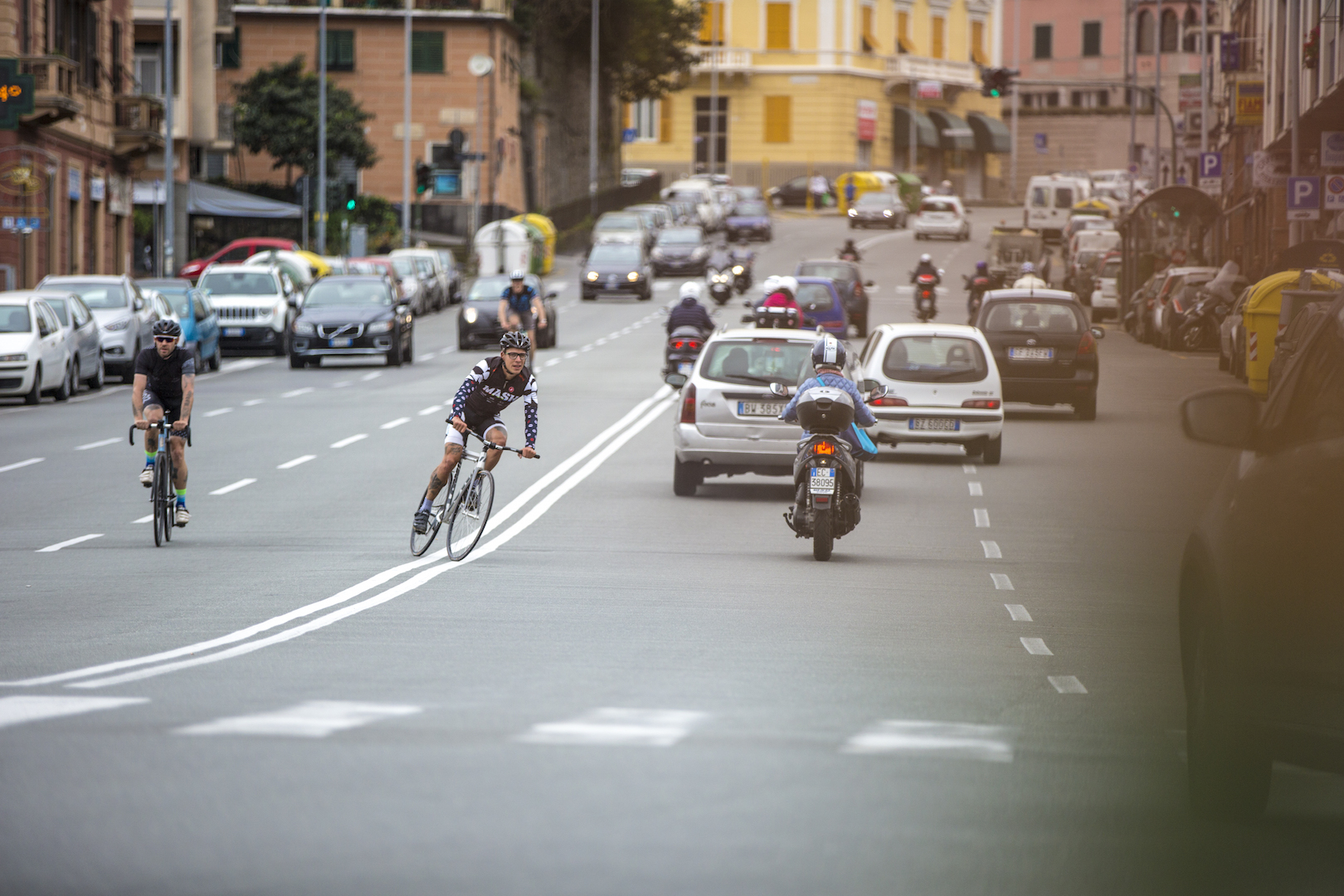 After the dirt and hills we were back into the heart of Genoa to rip through some traffic before the last climb.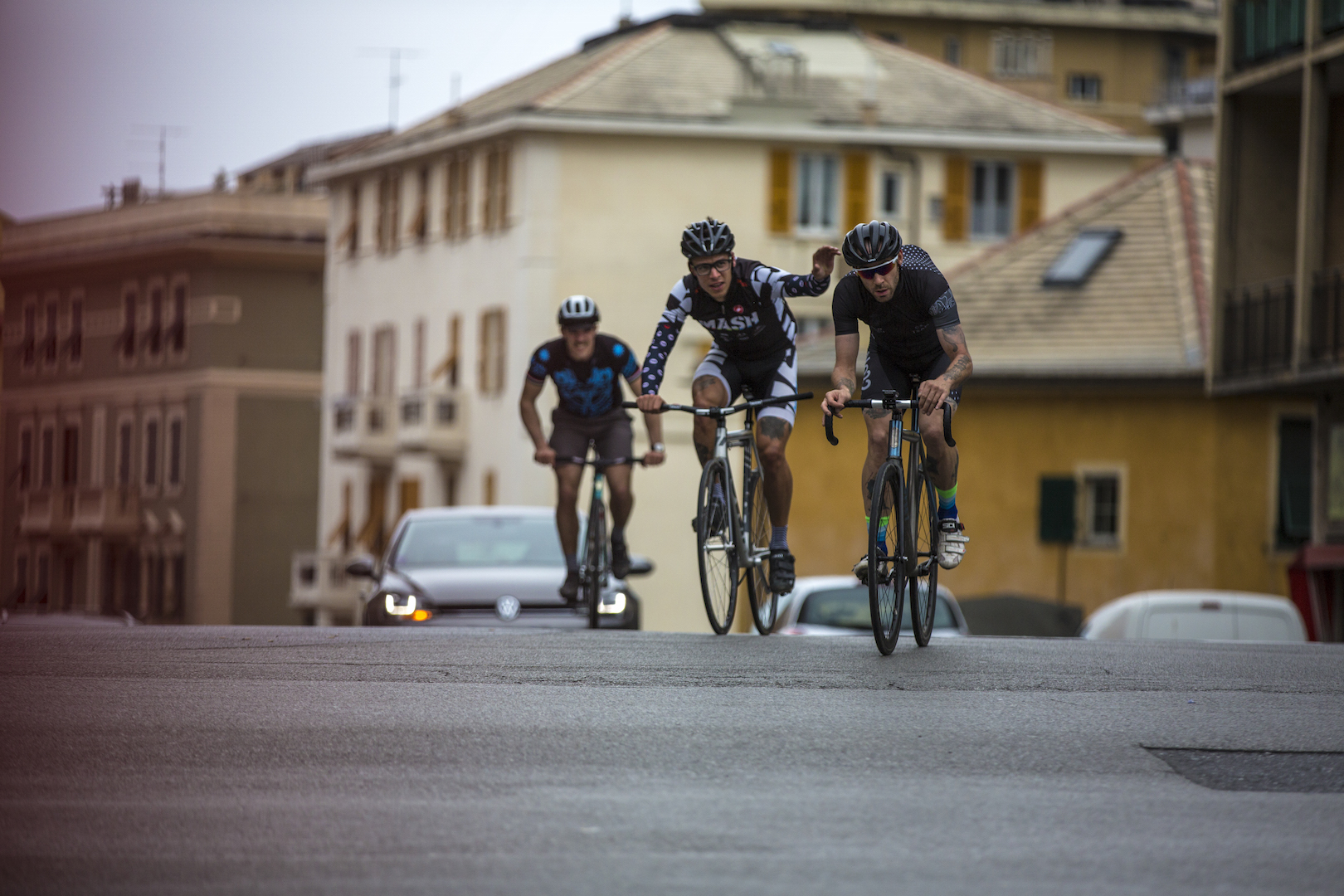 While we are all competitors we are first and foremost friends,  here is the lead pack as we start up the final ascent.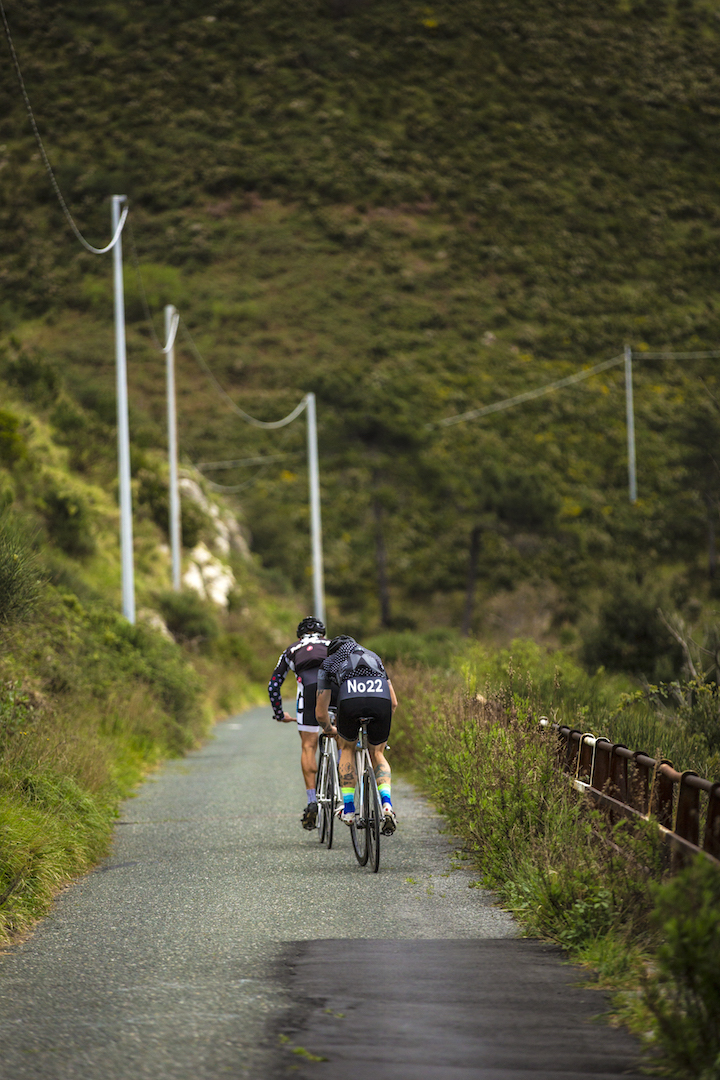 Andrea got caught behind a bus and this allowed Wilis and I to make a move up the climb.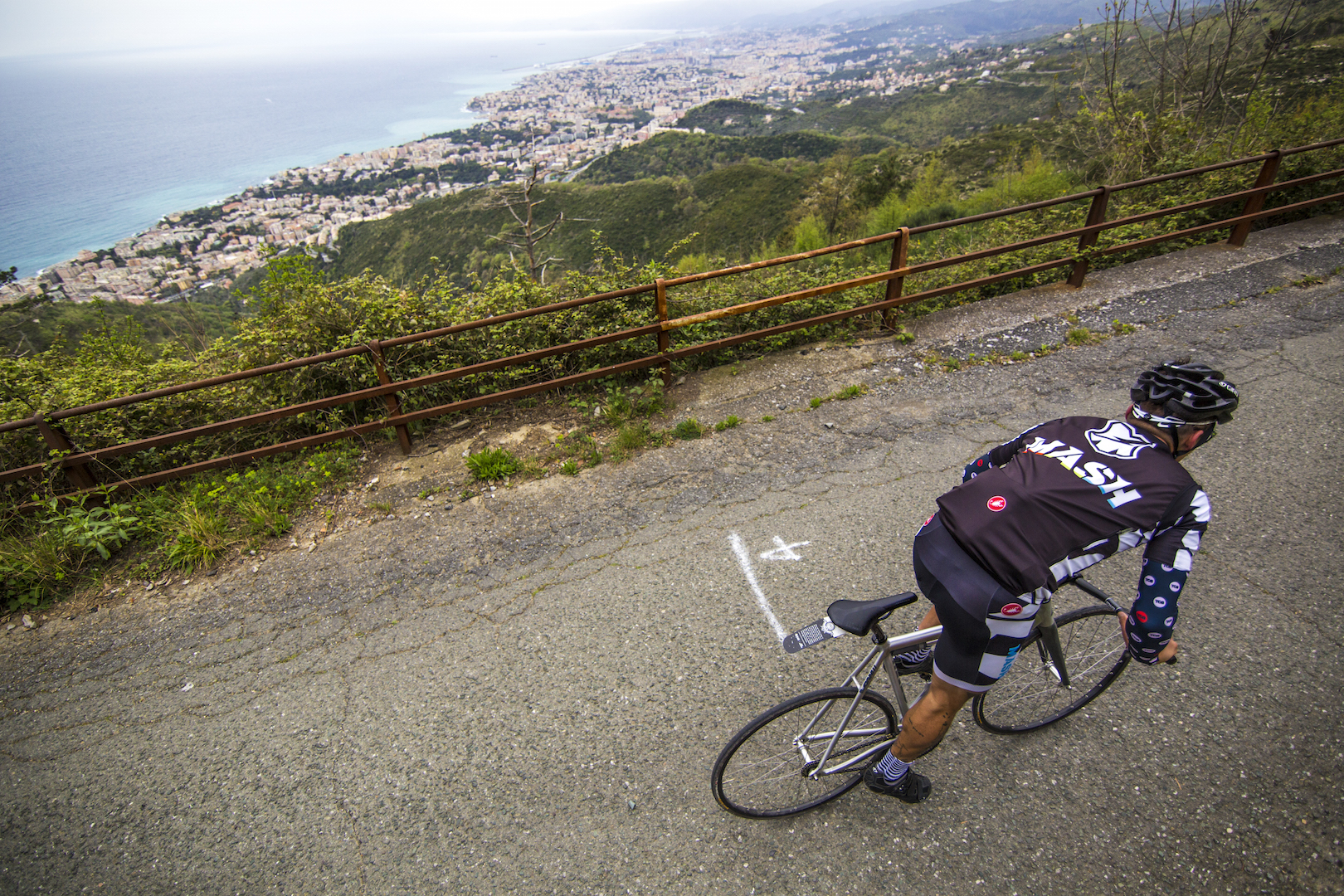 Sweeping views of Genoa helped keep our minds off our screaming legs!
Matteo of TVRBO GENOA was hot on our tails chasing hard!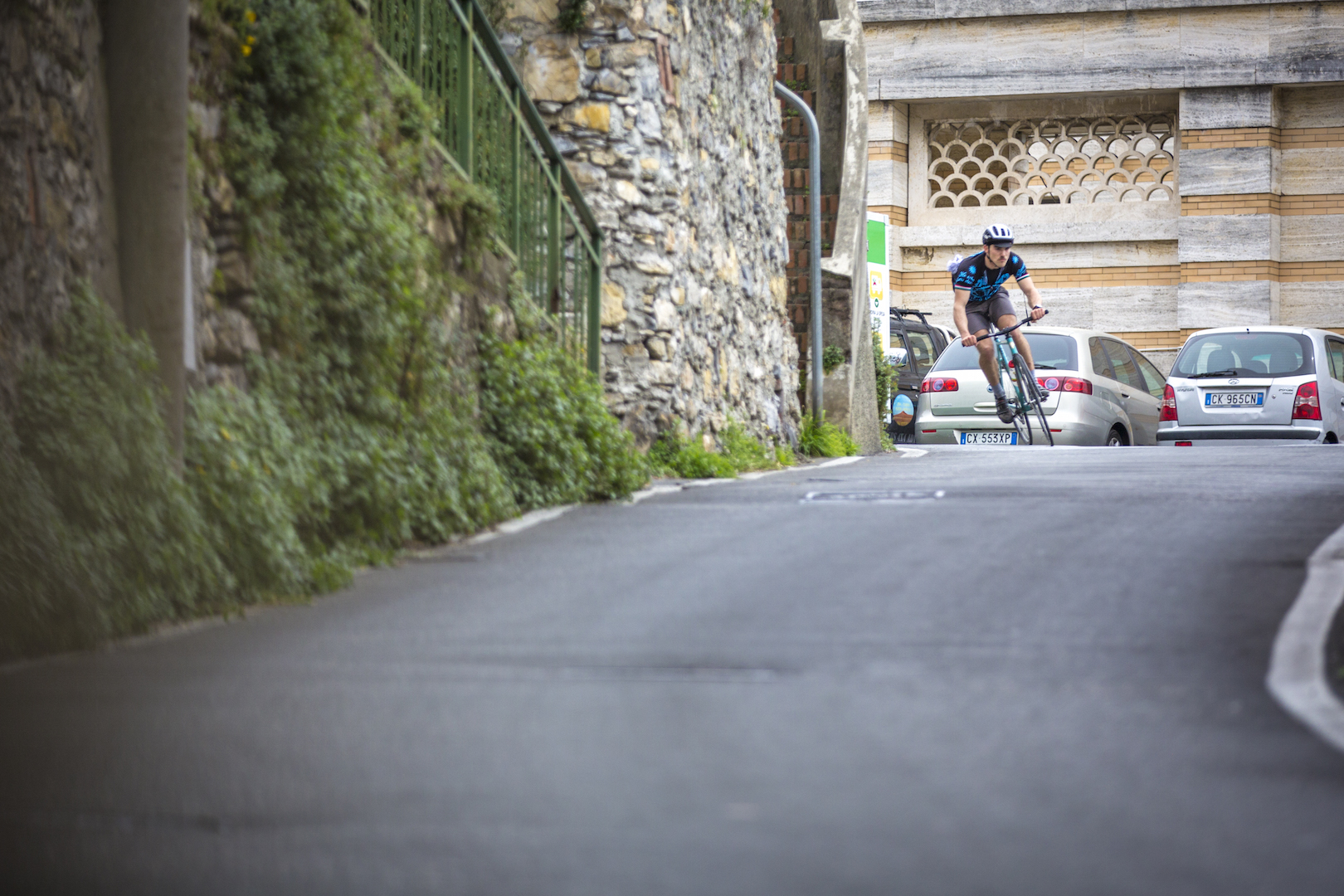 Andrea never gave up and continued his pursuit, always within sight of us.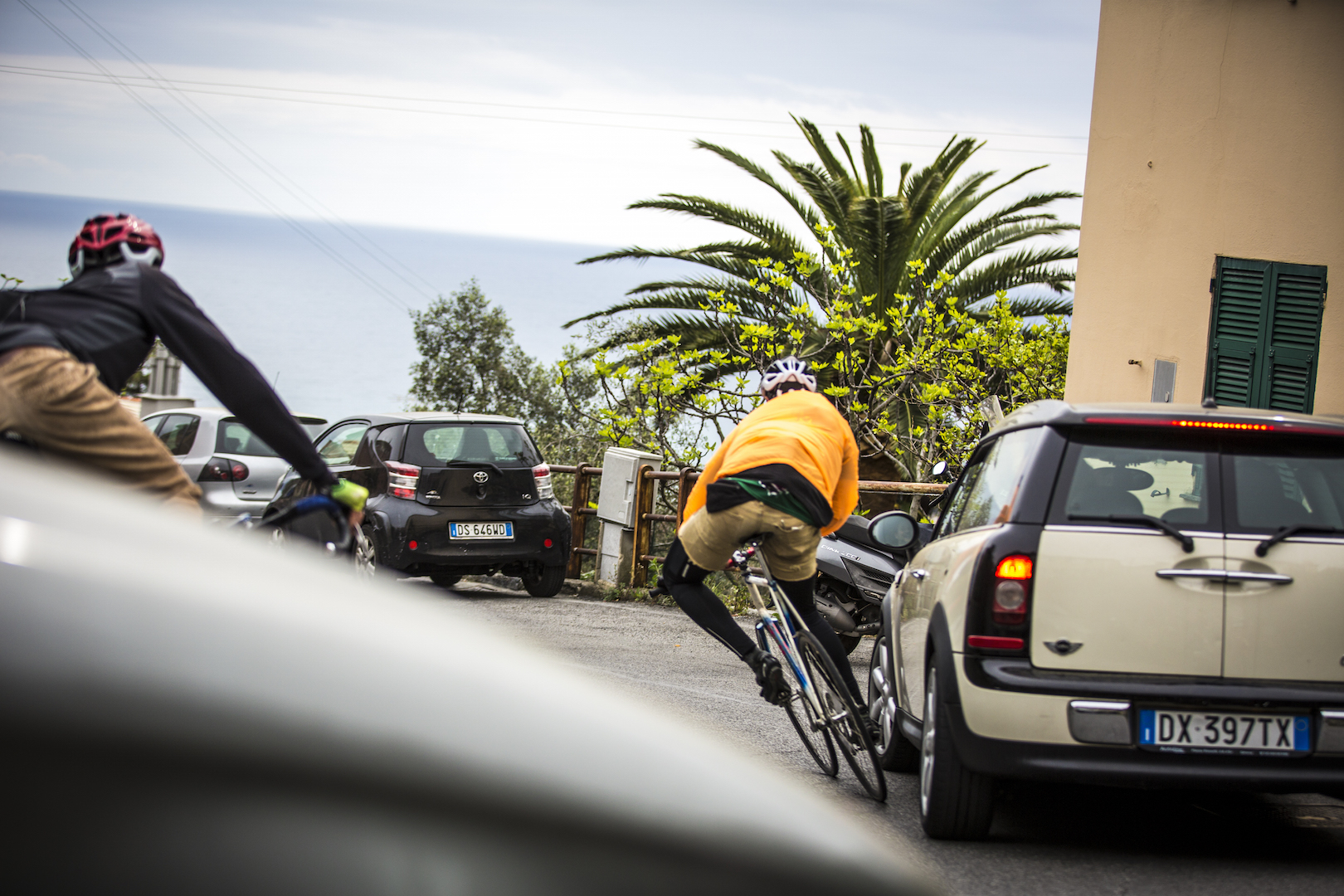 Themis had got some MOVES and was constantly pushing the limits, especially on the final descent trying to chase up.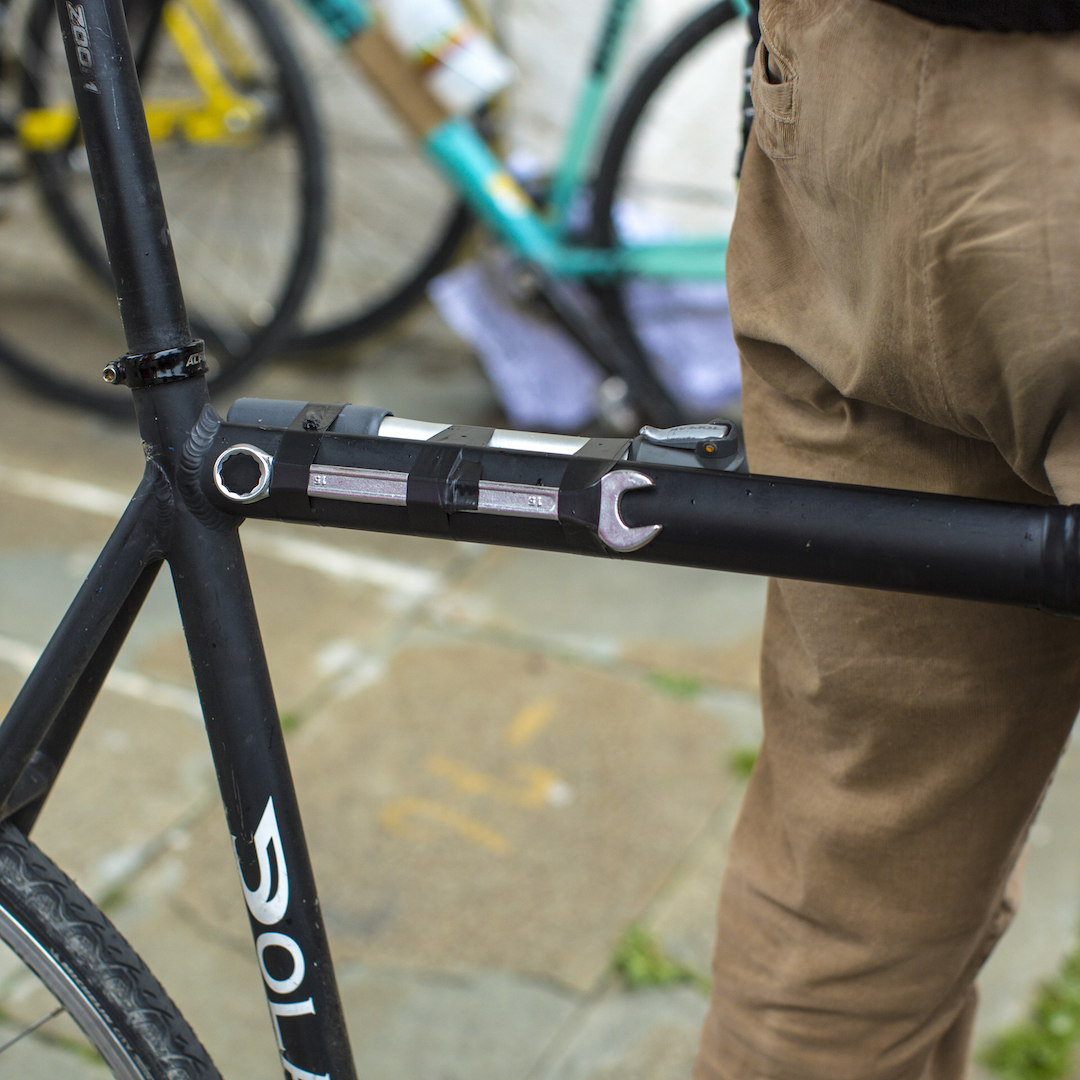 The DIY ethos was in full effect as many riders ripped the dirt on their track bikes for the first time!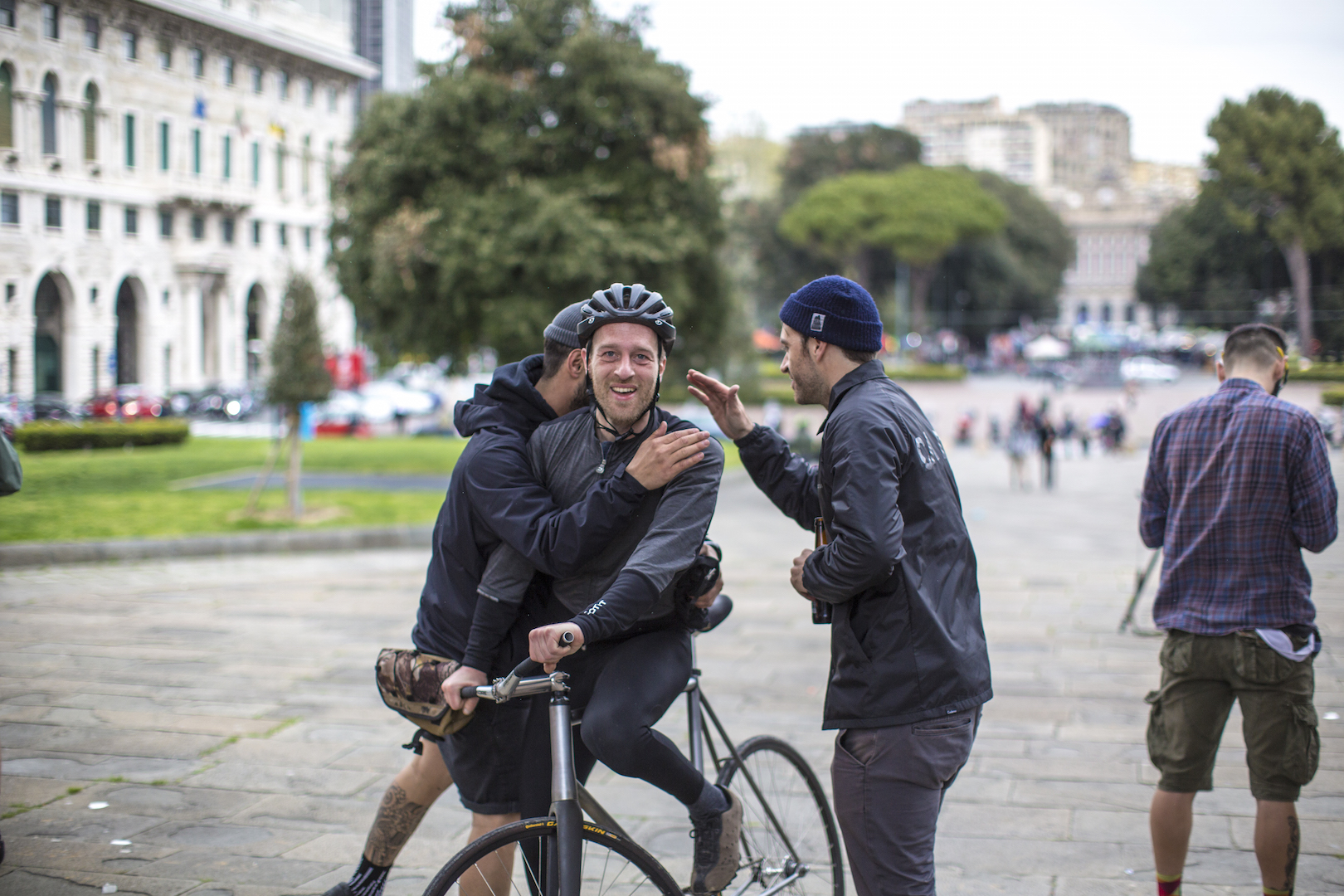 The raced ended at the Piazza della Vittoria.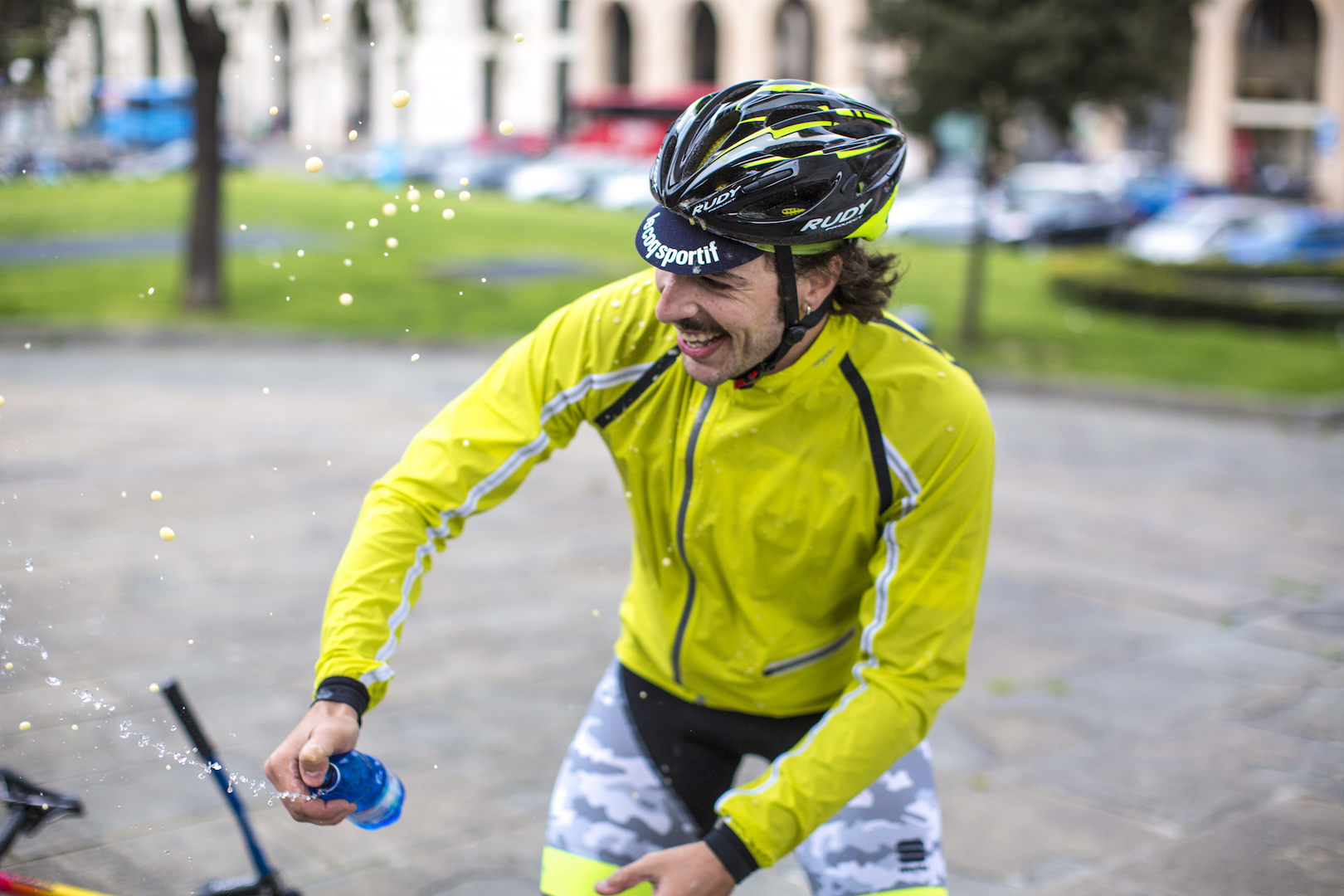 Mattia of Genoa celebrates his finish, trying to battle beer with Sprtiz!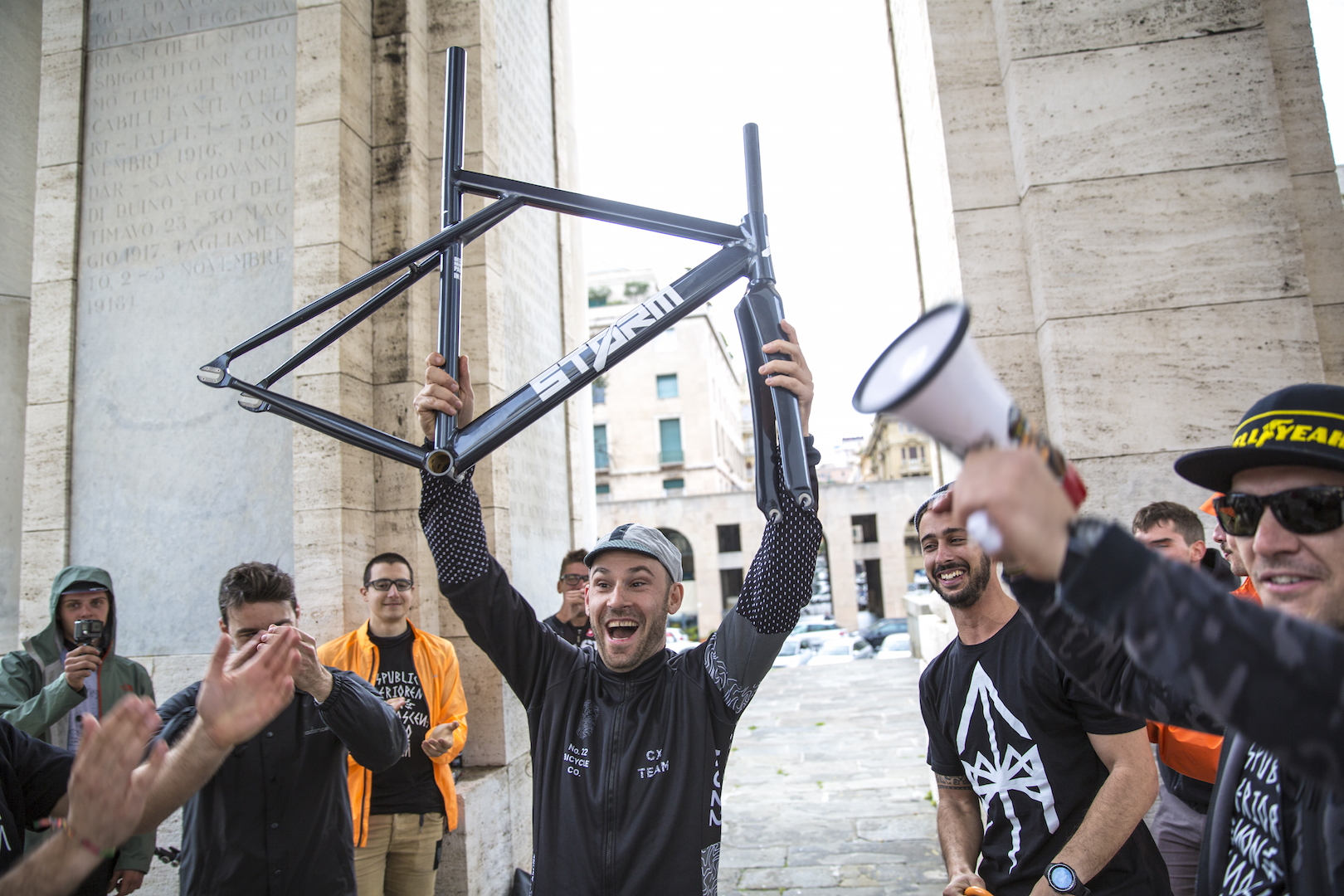 Wilis took home the Win!! I got 2nd and Andrea got 3rd! Themis and Lollo rounded out the podium with 4th and 5th.  Huge thanks to Vito and Stephano of SCVDO for keeping the stoke alive and throwing this amazing race!  Look for a short video next week and mark the date for next year!!